Favorite Family Television Show # 3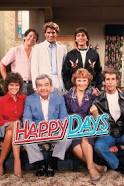 United States
September 30, 2016 11:43am CST
My number 3 favorite family television show is Happy Days. It's the story of the Cunningham family from Milwaukee, Wisconsin in the 1950's. The dad, Howard owns a hardware store. The mom, Marion is a typical stay at home home. They have 3 children. Chuck the oldest is in the early shows and only mentioned later on. Richie is the middle child and Joanie is the youngest. The show follows Richie and his friend around, especially at their favorite hang out, Arnold's. I miss the gentler kinder times that this show was filmed about. The show ran for 10 seasons.
7 responses

• United States
30 Sep 16
Yes, this is such a wonderful show to watch. I miss those gentler times too. Glad we can relive them a bit through older TV shows.

• Los Angeles, California
30 Sep 16
Yes, I watch many old shows myself and reflect the better world they came from. A time when a cell phone wasn't the most thing in life.

• Canada
30 Sep 16
Never missed a show of it! It was one of my favorites growing up. Every girl was in love with the Fonz. I even have a Fonz necklace somewhere in a box. lol

• Green Bay, Wisconsin
1 Oct 16
It ran that long? I agree it was a good show. I didn't see very much of it. Though I did tune in from time to time.


• United States
30 Sep 16
Yes that is still one of my favorite shows.

• Los Angeles, California
30 Sep 16
Happy Days was from the 70s and tapped into a longing for those "Happy Days." Decades later, some of us still long for those "Happy Days."