Profit, profit, profit...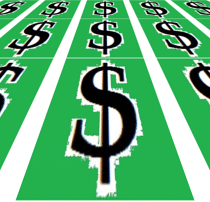 Petaluma, California
September 30, 2016 11:51am CST
It's all this world seems to think about.

"We have to shut our business down, we're not making a profit."
"Don't sell that for such a low price, you won't make a profit."
"Yeah, our stuff is selling, but we should raise our prices higher so that we can make more of a profit. "
"Profit" shouldn't necessarily be the "end all be all" of things. I do (sell) things becuase 1) I enjoy it, and 2) to get rid of things that I really don't need, 'cause I have more than I need anyway. When all we think about it profit, we lose the joy of the business, the joy of creating, the joy of interacting with those we sell to. Profit is certainly nice, but for me it is not the end-all-be-all. I refuse to think all about "profit"--it would just make a lot of what I enjoy doing "work".


3 responses


• Petaluma, California
30 Sep 16
I don't mind making a profit, either, but I'm just saying for me it's not the "only thing" as it seems to be with so many folks.

• United States
30 Sep 16
@xstitcher
it's not a top ten thing. I think enjoying what you do it the most important things. I know you enjoy cross stitching that's why you can do such a beautiful job on it. Have a terrific day.

• United States
1 Oct 16
I got to thinking the other day that I would be in real trouble if selling my crafts was what I did for a living. By the current records that I keep I only "earn" about $200 in a year selling them. But....there are so many things that I've realized that I've not written down as expenses, such as new blades, things I buy at yard sales and such, the new sewing machine I bought, etc. If I were to add those in, then I would come up with a loss for the year.

• Petaluma, California
1 Oct 16
I'm probably doing all sorts of things wrong, but I've even tried lowering my prices and nothing sells, so... ?

• Petaluma, California
30 Sep 16
Certainly, but putting profit before many other things is not good, either.