Alleve Direct Therapy Tens Device Review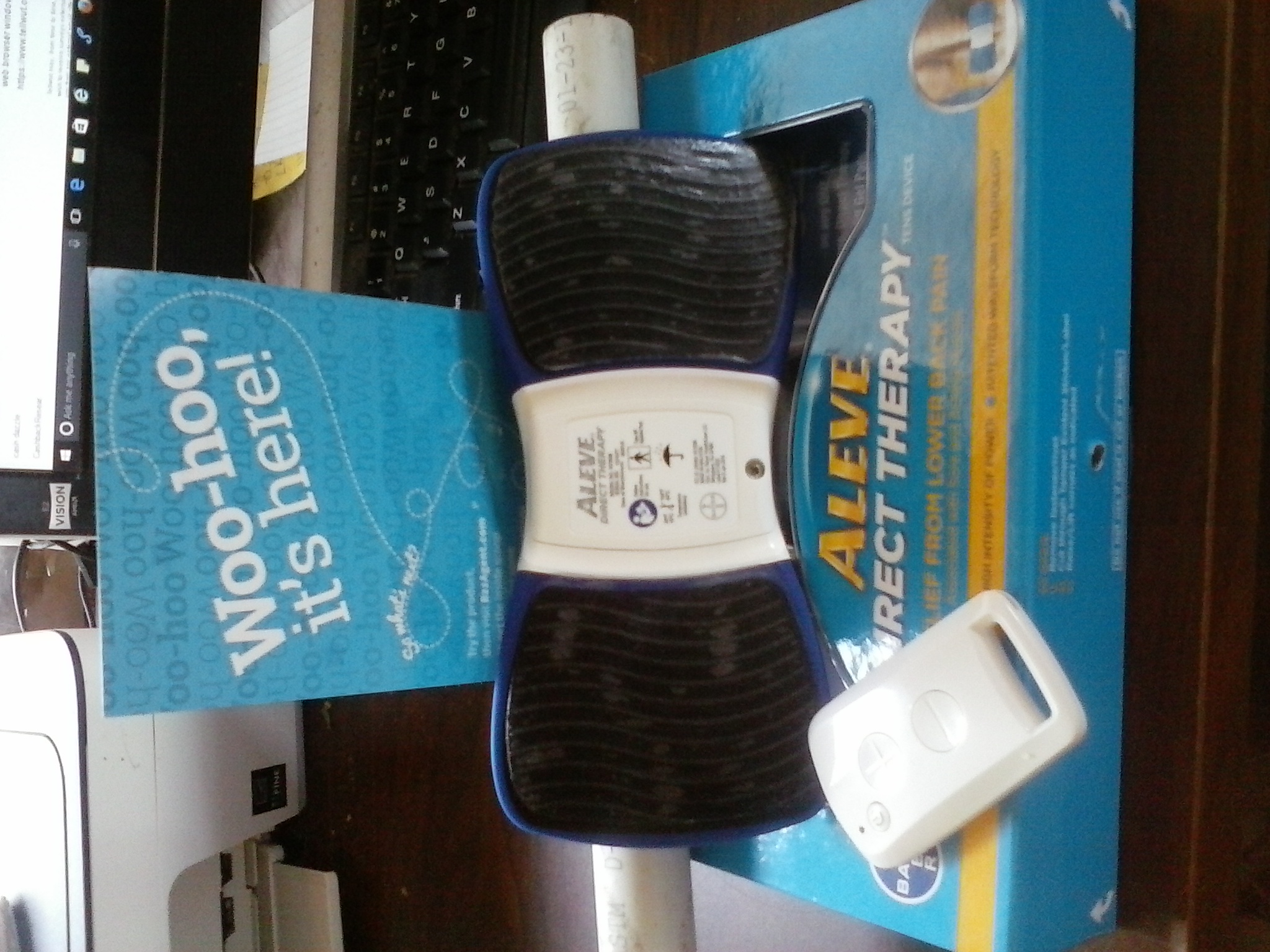 United States
September 30, 2016 2:19pm CST
So, I'm a member of a site that you fill out personal "survey" questions and then if you qualify you get a chance to "win" a product and then do a review on it on their site and also to "brag" about elsewhere, so here I am!!

As, I've mentioned in other posts I have arthritis in my back

and there are times that getting out of bed or doing normal chores is hard for me to do because of the pain. So when I got this Alleve Direct Therapy Tens Advice I was hoping it could be of some relief to me, besides the hot peppers I have been eating. Granted it's NOT a cure, but it sure feels good!!

It's like having a mini massager to put on my back!! It has a remote control to raise the level of the treatment (massage.) It came with batteries and even a tiny screwdriver to unscrew the battery compartment with. It also came with coupons for the gel pads that you put on the device that stick to your skin. They can be reused 2-5 times on the device. As I'm writing this post I have it on my upper back as I was standing peeling skins of tomatoes and the bending of my upper back was hurting. So, you can use it when you're doing regular activities as it's light weight and has no cords to it!! So, if you're suffering back problems I would recommend this Alleve Direct Therapy Tens Device because it has helped me find some relief in my pain in my back. This is the second day I have used it as I just got it yesterday. I do a couple of 30 minute treatments on my upper back and lower back. ~Peace~ photo is my property
6 responses

• Oxford, England
30 Sep 16
Years ago I had something like this after childbirth and then my sister in law had it for her back. I went to the hospital and they gave her the thing to use at home. It was very helpful I am interested to hear you can buy them.

• Pittsburgh, Pennsylvania
30 Sep 16
@STOUTjodee
Sorry about arthritis in your back, arthritis is not fun i have it in my elbow from a dislocated elbow five years ago this last August. I wonder this product only for the back and are you only able to use it 30 minutes at a time like you said you did a couple of 30 minutes treatments or can you leave it on all the time? I am glad you are getting some relief. Can you use it as many times a day that you need it? All the best! have a great weekend!

• United States
1 Oct 16
It is recommended for back use only. You can stop it at any time. I had it on longer than 30 minutes one time. You can leave it on and use the remote to turn it on and off at any time.

• Pittsburgh, Pennsylvania
1 Oct 16
@STOUTjodee
That is good it is convenient by leaving it on all the time and using the remote control. I imagine it would be hard to have to attach it every time you were in pain and had to try and attach it while hurting. I wish you all the best with the pain and hope it goes away with this new machine

• Petaluma, California
1 Oct 16
This is something I've never heard of.


• Boise, Idaho
30 Sep 16
Sorry about the pain and glad you have found something that helps. My daughter has back pain sometimes and she had been using Salonpas. It lasted her all night recently. That's why she got them, so she could sleep through the night.

• Chile
30 Sep 16
I don´t know if we have the gadget in my country of if I can use it as I had back surgery. But I am very glad it helps you. Back pain is terrible!