Fighting the Urge to Utilize my Dark Powers

United States
October 4, 2016 7:49pm CST
I'm frustrated. Because I'm frustrated I feel like releasing dark energies for the purpose of entertainment. When I use the dark powers, it won't be pretty. I was listening to some really inspirational music earlier today and raised my hand to the sky and was about to channel my energy out into the world when I stopped. Goosebumps broke out all over my body and the energy was primed, but I didn't let it go. I'm thinking I will give this world some more time before I suggest destruction arises again. If it were you, and you could do it in a moment's notice, would you be able to hold back as well? I worry that most people could not. After all, this world is one filled with destruction on a daily level. What's a little more? But then again, most people are not me, and therefore lack dark powers anyway, so I guess it's a pointless question. :P Yes, I wrote this post because it's October, I'm listening to inspirational music and I'm bored. Thoughts, comments and statements welcome.
7 responses


• United States
7 Oct 16
@teenspirit
A little abnormal content is a healthy break from every day stuff.

• Australia
15 Oct 16
Is it dark and destruction your hero is heading to? Don't kill him yet, make him see the light first and save the world.


• United States
16 Oct 16
The hero saw the light, and that's why the world must die. ;) I'm out to save the world, but it's best I'm tired of watching it be handled improperly.

• Australia
16 Oct 16
@OneOfMany
Oh, no, don't give in to that sickening feeling of tiredness towards the world's mishandlers! Your hero who has seen the light will keep fighting the forces of evil.


• Philippines
5 Oct 16
what kind of music did you listen to that inspired you?

• United States
5 Oct 16
Random anime music. This one song was doing it for me, at least halfway through. Here is the name of it: Akame Ga Kill - Le chant de Roma

• Delhi, India
5 Oct 16
Interesting topic for discussion. I think this urge will never be subdued hence what you can do is contact a Psychologist to get yourself treated.

• United States
5 Oct 16
Maybe in the past, but I got a system message earlier this year that said "You have achieved balance" so I think I already have been treated. :) Besides, I used my dark powers for years over ten years ago and it was really fun. Although I guess the world didn't feel the same... but oh well. :P Now I'm on a mission to save the world. First step is getting rid of the climate change issue. But that's not a difficult puzzle, so next will be trying to move on beyond that.

• Australia
11 Oct 16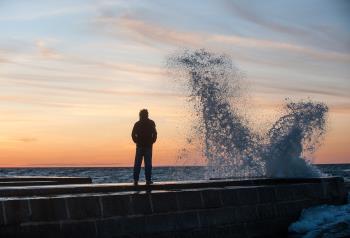 That's a heavy weight you carry around with you. I am glad I am not being tempted with such power. Was the devil also bored and rebelled because he wanted entertainment? He got kicked out of Heaven, so the story goes. Has entertainment got anything good about it then? The answer to life's problems rests deep within that problem's origins, which always originate in and from a sense of boredom or restlessness. Love is never restless when it is its own entertainment, but when you try to be entertained with something outside of love, all grows dark then on your horizon, and all will remain dark, until the light of love is allowed back in. Dark entertainment darkens only itself even more, as the true light can never be darkened.

• United States
11 Oct 16
However, for a balance there needs to be both light and darkness. People playing to the light will ignore the darkness. Those people are light-oriented, but the darkness is necessary as well. As for Satan and Lucifer, they are different people. We were told that Lucifer rebelled against god, but was that story true? Why were the angels divided into ranks if they were all equal? Why were they structured as a military before there was a need to fight? The truth is that the demons were already there. Lucifer was the general of Heaven's army. Because he did something that was against heaven's best interests, he fell. He's a fallen angel, and not a demon.

• Australia
11 Oct 16
@OneOfMany
I have often asked myself if balance is really necessary, or not. Do we need a balance between good and evil, between light and darkness, are both sides both necessary? It would seem so, otherwise they would still not both be in existence surely, would they? In an unbalanced world, balance is retained not by both sides trying to re-balance or unbalance the other side then. No, balance comes simply from following the path of love and light, which walks the balance beam between each side, crossing to neither side, unless it reckons a reckoning is due, and so in that case, love stays on its beam, but allows its energy to feed into both sides equally, for the experience of it. The sides provide for the spectrum for light to be seen in different ways. Otherwise, it is all light, or all darkness, and this can never be so. The darkness creates pockets of lesser light and the light allows itself to be lessened in this way so that different facets and frequencies of itself might be experienced by souls on the path, so to speak. That's my own idea about this interesting topic.

• United States
12 Oct 16
@innertalks
Love and light is still just one side of the equation. Their opposites are hate and darkness, which the world certainly has a lot of. A true balance has all those components and more, working together to make a final result. Otherwise you are saying that the natural state of the universe is the darkness and people need to focus on light to balance it out. I'd say it's really tough to remain in the middle, because if you are righteous then no darkness is allowed, and if you use the darkness once, then you can say you are permanently tainted forever. And if you get addicted to the darkness then you may never return from it.


•
6 Mar 17
i think we all have to use some self-control in life whether it is for a dark power or for simply knowing when to restrain our temper or hold our tongue

• United States
6 Mar 17
Self-control is important. It only takes one to lead the world to ruin. It's better if we all play nice together.

• Centralia, Missouri
17 Oct 16
channel it towards teaching some people some lessons perhaps. I can think of a couple who need some serious lessons

• United States
24 Oct 16
As someone that lives outside of the box, the entire world needs a serious makeover. If only I could utilize powers in a more showy fashion, then I might take a fight directly. Unfortunately, I can only hope to spread ideas that hold keys to change.