Could Batman Really Beat Superman? Assistance from other heroes and villains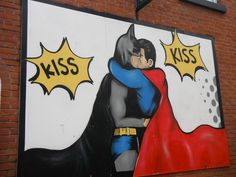 Preston, England
October 6, 2016 7:37am CST
The recent Superman V Batman film barely touched on half the territory of their various fights in the comics, so the question of who would win in a fight between them remains unanswered. The film finished (spoiler alerts) with them becoming friends for no other reason than that they both had mothers called Martha. Fans rightly felt seriously cheated by that. Though often shown as a brooding loner, Batman has been known to have allies assisting him in his battles, most notably Robin, though Superman would snap the super-power free Boy Wonder apart pretty easily. The presence of other Justice League Of America members in the recent movies shows some moves in this direction with DC now very eager to get their own Avengers style franchise rolling. Batman drawing in other heroes to assist his cause seems a shrewd move, as some of his allies are much more of a physical match for Supey than he is. However their assistance is likely to be predominantly secondary. The film minimised the appearances by other Meta-humans and rightly so or the movie would need retitling as Superman V Batman, Aquaman, Wonder Woman, Green Lantern, Green Arrow, Flash, Plastic Man, and just about anyone else who they can find tights for. Only a few other heroes cameoed in the film. The Man Of Steel is probably going to get a battering from the JLA in any Batman V Superman rumble, but with Batman as the primary opponent, they are likely to be pushed aside by Superman before Batman gets to finally take him down alone. It would seem an anti-climax if Wonder-Woman suddenly punched him out instead. It is not impossible that some or even all of the JLA might take Superman's side, in which case Batman will really have his work cut out, and frankly might as well just wave his white flag right away and get it over with. We could see secondary bouts such as Wonder Woman V Aquaman here. If Batman really wants to be ruthless, he might drag some of Superman's enemies out of prisons and Phantom Zones to help embarrass, immobilize, weaken, defeat or even destroy the big guy. Doomsday beat Superman to death once, so Batman might even go so far as to let him out before trying to figure out how to stop Doomsday (in both senses of the word). I'd like to see a Suicide Squad mission raid on the Fortress Of Solitude featuring Batman, Lex Luther, The Joker, Harley Quinn, Doomsday, Bizarro, Zod, Lobo and others, but that seems a tad unlikely. Arthur Chappell
5 responses

• Los Angeles, California
6 Oct 16
Or Batman can whip out some kryptonite.

• Preston, England
6 Oct 16
@JohnRoberts
I covered kryptonite in an older article but yes it is the obvious method to use

• Los Angeles, California
6 Oct 16
@arthurchappell
Batman is just a man so he could be taken by any of the other superheroes who are from another planet or zapped with some power.

• Preston, England
7 Oct 16
@sol_cee
Plastic Man was a DC hero who could stretch and bend himself into any shape - a rather hippy variation on Mr Fantastic in Marvel's Fantastic Four


• Preston, England
7 Oct 16
@Vjvals
Batman would want to beat and neatralize Superman, not destroy him

• Centralia, Missouri
17 Oct 16
batman tends to fight smart, he'd just use some of that green stuff that hurts superman and then cage him in that or something

• Canada
16 Oct 16
I second Lobo! I read a few of his comics before! I got them when I chased out some campers from their tents. Left all their stuff! I sure knows how to beat somebody up! Speaking of beating somebody up. Nope, Batman could never beat Superman. Superman is a real super hero. Batman is just a little spoiled brat that grew up with a lot of money that his father left him! If Batman had some help by other super heroes, then yes Superman could go down, but not by a normal human in black yoga pants.