The Girl on the Train: A Book Review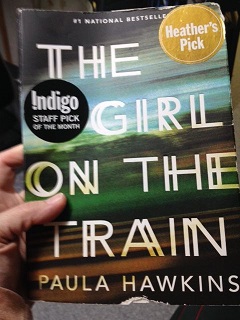 Orangeville, Ontario
October 8, 2016 1:20am CST
I am sure everyone has heard about this book, The Girl on the Train by Paula Hawkins. I think it is the most talked about book of 2016. As you can see by the cover, it's got a couple of "pick" stickers, meaning it is highly recommended. I was determined to finish this book before the movie came out. I finished it the day the movie came out. Even though I know the movie is different, I am looking forward to seeing it... just not sure when. As for the book, I thought the writing format was good. It made the story easier to follow. The chapters are broken down by the three lead female characters speaking in first person on their perspective. The story was well written and I didn't see the end to be what it was. The author did a great job of making it difficult to figure out "who dunnit". It's an easy story to wrap your head around. As far as sex and swearing I would say it is pretty tame. You may be able to tell from the picture that the book is quite weathered. My daughter got it from her boyfriend's mother. I don't know where she got it from. I gave this book 5 stars. Read it!
9 responses

• Pittsburgh, Pennsylvania
8 Oct 16
@patgalca
I forgot to ask what you are going to read next? I just ordered a physical book Truly, Madly guilty for my book club on October 22. Did you ever read the nest by Cynthia D'aprix Sweeney it is a book we read for Septembers book club? It was so good about a dysfunctional family. I am going to write a review of it for here! i have one written as i read the book last month just never posted it!

• Orangeville, Ontario
9 Oct 16
The Nest is another book that has been all the rage of 2016. I haven't read it. I went to two author events recently so those two books I bought are next on my reading list. I am currently reading Rockets Versus Gravity by Richard Scarsbrook. He is a local author who does writing workshops at our library.


• Pittsburgh, Pennsylvania
8 Oct 16
@patgalca
Thanks for the recommendation and review I have the book just didn't get to reading it yet but am going to soon! I think my book club is going to see it as a group. They had read it before i joined! I have to catch up.My sister's friend read the book and says it's excellent! I will start on it soon!




• Los Angeles, California
8 Oct 16
I have not read the book and want to eventually see the movie.