I saved over 25 dollars at Cost Plus World Market!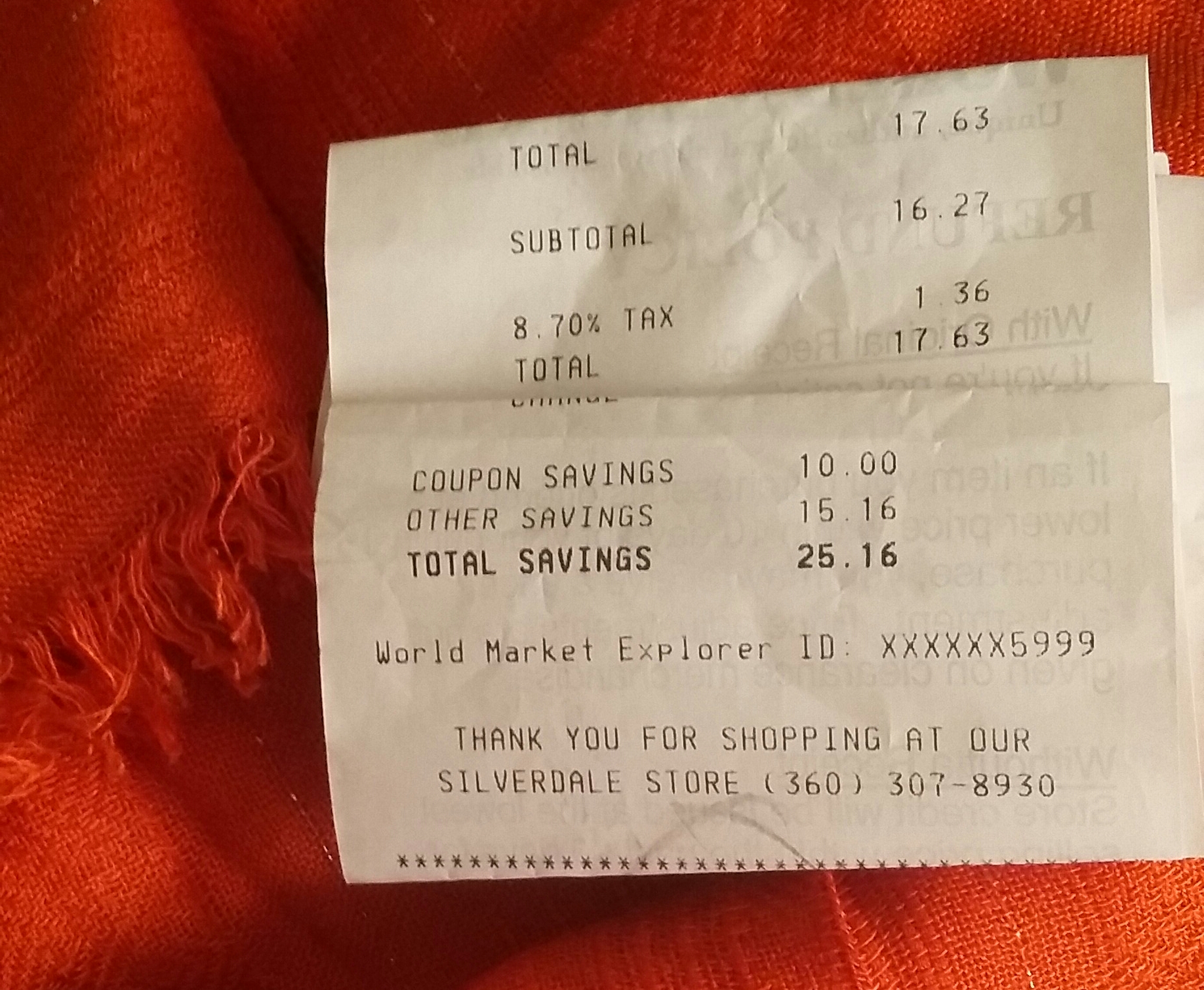 United States
October 9, 2016 9:26am CST
I received a reminder notification from Cost Plus World Market that I had earned $10 to spend from their reward program. It was to expire in 10 days. It was not conditional--$10 off, if you spend $30. I stopped in yesterday. I can always find something in that store on which to spend money! The clerk greeted me as I arrived and informed me of the special additional sale for the weekend: 30 percent off of all products/10 percent off of food and wine purchases. First I checked in the food clearance section, where I found three little boxes of sugar-free lemon mints from Italy. Perfect throat lozenges. Original price: $1.99 each. Discounted price: 99 cents. Expiry date: Additional 55 percent off. Now: 45 cents. Apply the weekend promotional, final cost: 35 cents a box/ total: $1.05. Then I went to the accessories section, On the sale rack was a beautiful red-orange scarf. Original price: $17.99. Discounted price: $8.48. Weekend promo applied, final cost:$5.94. A bottle of rose green tea sounded good by now, and I started in the direction of the cooler. I knew the tea was $1.99, and after the promo, it would be $1.79. My running total would be only $7.99. I would still need to find something to make up a few more dollars. And then I saw it. It was $24.99. I just had to have it! If I applied the discount, it would be $17.49. If I put everything else back, I could have gotten out of there for the cost of this item, plus tax, minus my $10 off; the grand total for the one item would have been $8.14. But the mints and scarf were such a great deal. And now I was thirsty, so I pulled the tea out of the cooler and I made my way to the register. My grand total for all the purchases, after applying all the discounts, the $10 reward, and tax, was a real bargain at $17.63. Without any discounts, the total would have been $42.79, a savings of $25.19. It was as if I paid full price for the other items, and received that item for free. It felt like Christmas to me, and I was happy with this particular find. "What was it?" you may ask. You will have to wait for my next post!
5 responses

• Canada
9 Oct 16
lol I was waiting and waiting and waiting to see what it was only to find out I had to wait longer. Whatever it was it was a great deal and you got some good bargains.

• Boise, Idaho
9 Oct 16
I haven't been to that market in years. I keep thinking about it. I used to go there during the holidays to find unique gifts. Nice saving you made.

• United States
9 Oct 16
There really isn't anything that I need anymore, so it's often that I go in for the clearance items, or birthday cards, or when I want some specialty food that I can't find elsewhere. I do enjoy the atmosphere though.

• Boise, Idaho
9 Oct 16
@CoralLevang
.....The one here has a nice atmosphere as well. I'd go in for a few clearance items. I remember getting a box of truffles that were from Belgium. Yum!

• United States
9 Oct 16
You really did score in that store!

• United States
9 Oct 16
I have had other times like this there. I could also spend a lot of money, if I didn't wait for the bonus sales!

• United States
9 Oct 16
@CoralLevang
We have one here too and the variety in that place is wonderful. Good prices too.


• United States
9 Oct 16
You say that like it's a bad thing!