Kittens, Kittens, Kittens!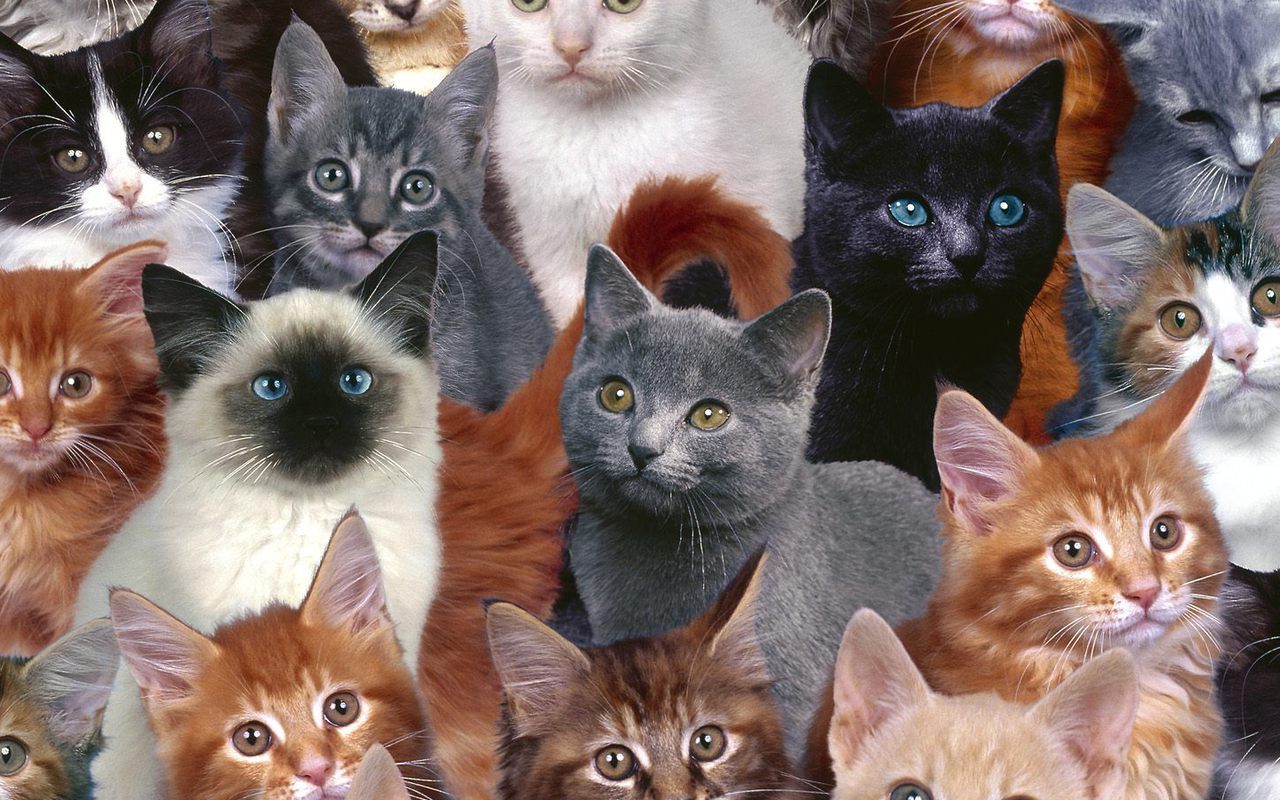 United States
October 9, 2016 10:24am CST
It's that time of year when kittens begin to show up here and there and every where! A dear friend of my came across an orange striped kitten at one of the homes she works at and asked me if we wanted it. Well we decided after losing our buddy of 17 years (a year ago), that we weren't going to get any more animals. Then my sister has a young black cat that showed up at our place and she said he looked just like our buddy, Star. I'm like "No Thanks". Guess she's having a hard time getting rid of him. She already has a beautiful cat called "Serena". Then when visiting at my Aunt and Uncles there were 3 or 4 kittens that had been abandoned, one was grey with blue eyes just gorgeous. But we have already set our minds as they cost money that we don't really have. Have any of you myLotters come across kittens? Picture by bing.com
4 responses

• Canada
9 Oct 16
Kittens are so sweet. We have two cats but I am always tempted to get another one.

• United States
9 Oct 16
@Happy2BeMe
Yes kittens are so precious and I wished we could afford another one but it's just not in our budget. You have to take them to the vets and then all the other stuff. The biggest deterent is the litter box as we live in a small cottage and had to put the litter box in the laundry room right outside of the living room. This was when our buddy, Star was still alive. We had him for 17 years and lost him about a year ago. Any way his timing was incredible, when we would sit down to eat he would go to the bathroom and stink us out. I would have to scoop the poop so we could eat, ugh! Plus walking in the litter too is a turn off. But the joy Star brought made all the mess worth it! we love and miss him. I know he's waiting in heaven for us.


• Fairfield, Texas
9 Oct 16
@Butchcass4
I scoop 4 boxes 5 times per day and what kills me is that I've got 1 cat that stands there and watches me scoop the box and when I'm done, he'll immediately get in the box.

• Canada
9 Oct 16
@nanette64
I have a cat that does the exact same thing lol


• Fairfield, Texas
9 Oct 16
I am a rescuer
@Butchcass4
. I now have 16 cats. The recent rescue was in March when I saw a Siamese abandoned under a house down the road from me. She did have 2 kittens but I think the dogs across the road killed them. I started going up there feeding her daily and noticed the dogs were paying too much attention to her. I brought her home and 2 weeks later she gave birth to 4 kittens.


• Fairfield, Texas
11 Oct 16
@Butchcass4
Thank you. I have a feeling I'll be in charge of the Rainbow Bridge and when I do, I promise to take good care of Star.

• United States
11 Oct 16

• Fairfield, Texas
12 Oct 16


• United States
9 Oct 16
Well, no litters of kittens here since cats are not allowed to roam free here, as well as dogs. All dogs and cats have to be contained in fenced yards and on-leash when out and about with owners. Works well to ensure the safety of dogs and cats and limits the number of homeless puppies and kittens too.

• United States
10 Oct 16
Where do you live that you have such tight restrictions if you don't mind me asking? Well when we lived in town they had restrictions too, especially to clean up after your dog poops on someones lawn. That is a great law to have as I remember stepping in poo and ugh what a nasty mess



• United States
10 Oct 16
@Butchcass4
Well, since the state of IL is #1 on the list of "Worst-Run States," I am pleased to note that the state of IL is #1 on "Toughest Animal Welfare Laws." No pet shops in the city of Chicago can sell dogs purchased, but can only sell shelter dogs. Also, a person here will be fined if found to be feeding feral cats, called "cat trapping." There are far too many homeless dogs and cats, so having dogs and cats spayed and neutered and not left to wander is done to make sure there are fewer dogs and cats in shelters, many of which never get a home.

• Green Bay, Wisconsin
12 Oct 16
I hope they are able to find good homes. No, I haven't seen an uncommon number of kittens. I haven't seen any at all.

• United States
13 Oct 16
@just4him
I feel I'm surrounded by people who have kittens and they all need homes. I pray the Lord will provide them for them. They are so precious, I would love to have on to snuggle with. We'll see what the Lord will do.