Reporting a Discussion or Response....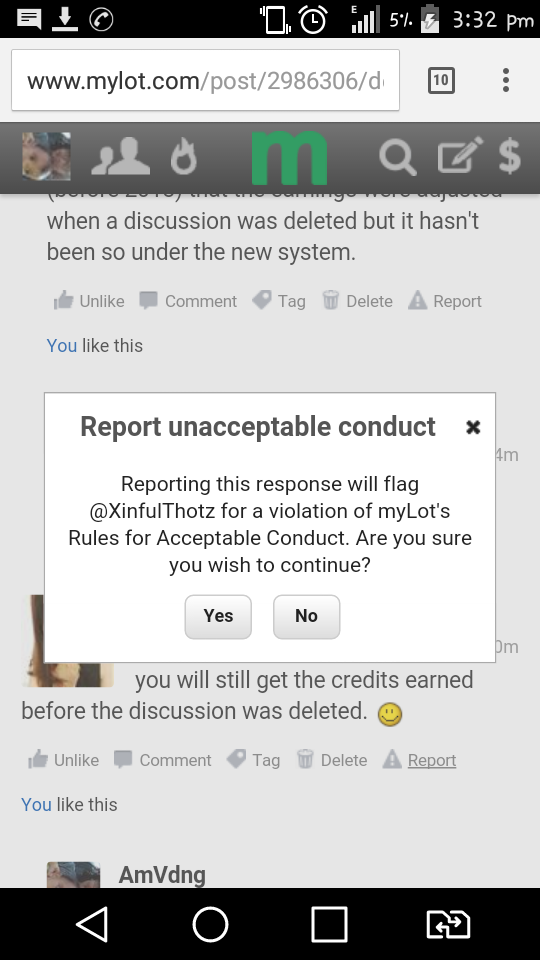 North Shore, New Zealand
October 10, 2016 5:11am CST
There is a "Report" icon in every discussion and response... If we click on that, a dialog box appears same as the picture... ( @XinfulThotz this is just a speciman, dont mind), if we click yes then the discussion or the response will be reported.... But I think there should be an option to mention the Reason we report instead of just reporting without saying anything... Isnt it? Also I wanna know, can we undo a report?
5 responses

• Philippines
10 Oct 16
We also hit that when we know that a post is plagiarized .

• North Shore, New Zealand
10 Oct 16


• North Shore, New Zealand
10 Oct 16

• United Kingdom
10 Oct 16
you can't undo a report but if you do it accidentally for some reason just PM admin. you don't really need a reason as to report something you just have to believe it's against the rules...admin will look and if it is against the rules it goes, if it's ok it stays.

• Greencastle, Indiana
11 Oct 16
well I think they reason why they have it like that is so they don't have to hear WHY they are getting reported cause they want to SEE for themselves what would be the problem without being told why. No once you hit that tab to report it your DONE. BUT what you COULD do is, go on that persons PAGE to find the story your reporting & COPY the URL on it & send it IN A P M to the staff where you can EXPLAIN why your reporting it like a copy paste thing.

• North Shore, New Zealand
10 Oct 16