Bill and Hillary ... a package deal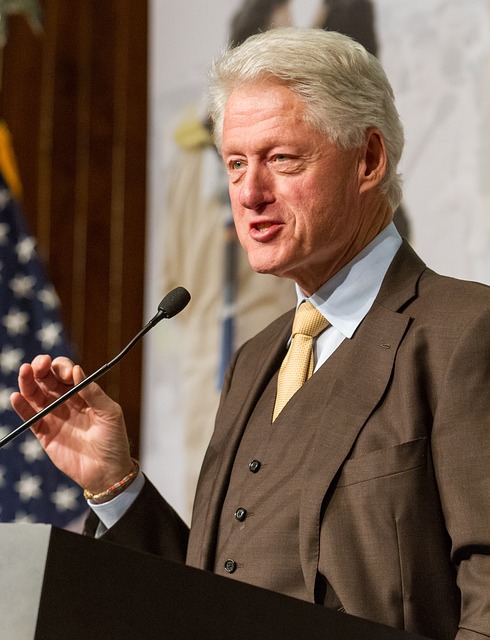 United States
October 10, 2016 1:45pm CST
I hope everyone understands that I am no fan of Donald Trump and will not be voting for him. I am even less a fan of Hillary Clinton and won't be voting for her either. But, when Trump defends himself and talks about the Bill Clinton years and how he abused women and Hillary defended him and belittled his alleged victims, everyone says that Bill Clinton isn't running for President. Hillary is. I totally disagree. Both Clintons are running for President. Let's not kid ourselves. They are a package deal. You vote for one and you get the other as well. If Hillary wins, philandering Bill gets another 4-8 years in the White House and he doesn't deserve it. He will also serve as one of Hillary's closest advisors throughout her reign. Bill Clinton is a very significant part of this election, just as Hillary Clinton and Donald Trump are. Image: Pixabay
10 responses

• United States
10 Oct 16
I can't stand all the mudslinging but you're right...Bill & Hillary are a package deal.

• United States
24 Oct 16
@anniepa
I politely and 100% totally disagree with you!

• Australia
25 Oct 16
@anniepa
Mrs. Trump is an honest, beautiful First Lady, incomparable to that Clinton corrupt woman. Admit it, Hillary has tarnished herself with everyone, even with Qatar and Iran who persecute women, marry off their girls to their men, and kill homosexuals.


• Calgary, Alberta
10 Oct 16
Why cant Americans just vote for Jill Stein instead of choosing between the lesser of the 2 devils? have you heard about that Canada is getting a lot of immigration application from Americans?

• United States
10 Oct 16
Oh, I do hope Canada gets those Americans since we are a bit crowded here and many could use their jobs. Hoping all go. They usually don't, but hope they mean it this time.

• Midland, Michigan
11 Oct 16
@Corbin5
WHat exactly are you talking about here, Deborah? Is it the immigrants currently residing in America that are requesting to move to Canada?

• Calgary, Alberta
11 Oct 16
@MarshaMusselman
Its local American citezens who wants to immigrate. From ordinary people to celebrities.


• Los Angeles, California
10 Oct 16
Hillary claims to be a standard barer for women and making a gender statement yet would she would be an absolute nobody if she had not married a man named Clinton. Without Bill, Hillary would not exist.

• Australia
12 Oct 16
With Hillary's pimping for power and absolute control, I wonder what it would be like in the White House with the Clintons? The White House where good old honest Abraham Lincoln used to sleep, think and lived with his family? Won't she dare call the "White" House another color to appease PC culture?


• Australia
25 Oct 16
@anniepa
You really have a liberally dirty mind as does Bill's dirty old man's mind. Hillary stole the antiques and moved them to her Chapaqua mansion. Clintons and the Democrat Operatives ( by Veritas Videos) will spread all the doom and evil in the White House. The Clinton will continue the open-border policy and will not be safe for women and children in the neighborhoods in America. Watch Cologne Germany, Merkel Open-Border, January New Year.

• Australia
27 Oct 16
@anniepa
You know what that means. It shows in your words and actions. Help Make America Great Again!


• Midland, Michigan
11 Oct 16
Hmmm, and here all this time I thought you were rooting for Trump. Here's a link that Deborak provided on a different post you might find interesting.

NEW YORK – Hurricane Matthew has reopened the debate over whether Secretary of State Hillary Clinton and the Clinton Foundation provided true disaster relief for the people of Haiti after the 2010 earthquake or mostly enriched themselves at the expense of

• United States
12 Oct 16
If forced to vote, I would vote for Trump, and for awhile way back when, I thought I might if he cleaned up his act. Obviously, he hasnt. I would never vote for Hillary. I'm planning on sitting this one out and not voting.

• Midland, Michigan
12 Oct 16
@LindaCPearson
I'd rather have other options, but if too many of us opt out of voting she may get in because of that and that won't be good either.

• United States
12 Oct 16
@MarshaMusselman
I agree with you for the most part. THis election is really horrid and very depressing, such a sad social statement of our country.


• Canada
10 Oct 16
I am not sure how you will all vote come election time. It is a sad situation.

• Calgary, Alberta
10 Oct 16
They have a 3rd party option but they aint giving them a chance.

• Canada
10 Oct 16


• Chile
8 Nov 16
I can understand that President Clinton did some wrong things. I still don´t understand how a person can save a stained dress in the fridge unless she wanted to frame him. But Clinton was a good president in international politics. I respected him for that. And I also understand that in many ways, the US is (or was) very prude.

• United States
8 Nov 16
What bothers me is the hypocrites bashing Trump for how he treats women when Clinton was worse, was a predator in the White House, preyed on young interns, and all on our time while President.

• Centralia, Missouri
15 Oct 16
while i agree, trump pointing the finger at anyone is sad

• Singapore
15 Oct 16
I used to think that Bill and Hillary are a package deal until Bill Clinton called Obamacare the "craziest thing" in the world. I like him for this. It is definitely not the most politically correct thing to say when his wife is running for the race at the moment. Bill Clinton sure uses his freedom of speech to speak his own mind.