Can anyone tell me the name of this flower?

Singapore
October 11, 2016 1:08am CST
I came across this beautiful yellow flower by the roadside. I tried to search the internet for the name and species of this flowering plant but to avail. Suddenly a thought occurred to me. Perhaps someone in the myLot community could help. I think there's plenty of nature lovers here. I took this photo a couple of months ago. Does anyone know the name of this flowering plant?
3 responses


• Singapore
11 Oct 16
@magallon
Yes, the flowers do look like bells and they are very pretty. I wonder what's the botanical name.

• Philippines
12 Oct 16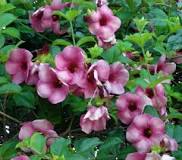 @succeednow
"Yellow bell" is a shared common name by (1) Allamanda cathartica (2) Allamanda neriifolia, and (3) Tecoma stans. The one on the picture that I posted is Allamanda Cathartica. There is a violet variety which is called as Allamanda Blanchetii.

• Singapore
12 Oct 16
@magallon
Wow, you do know a lot about this type of flower. Have you a special interest in flowers? Thanks for sharing.



• Singapore
12 Oct 16
@LadyDuck
I've learnt something today. I thought this type of flower only grows in the tropics.

• Switzerland
12 Oct 16
@succeednow
I have seen this flowers also in our florists windows.


• Roseburg, Oregon
11 Oct 16
I do not know the name of that flower. I hope someone else tells you.

• Singapore
11 Oct 16