Favorite Dog Breeds # 5- The Rottweiler.

Banks, Oregon
October 12, 2016 4:43am CST
Coming in at # 5 on my favorite dog breeds series is the Rottweiler. Rottweiler's are black and, brown in color and, weigh up to about 150 pounds, they are big muscular, tough looking dogs and, make one of the best guard dogs there is, you often see them at wrecking yards, they are also used as search and, rescue dogs, seeing eye dogs, police dogs and, great herding dogs. I have had a couple Rottweiler's though and, with their family, they are very gentle and, loving, they love to play and, will want to lay right by you all the time, they are also very protective though and, have a loud bark, if you are a stranger, you don't want to just walk up in ones yard. I should also add just incase, that I could possibly lose internet for a few days, but I hope not.
7 responses

• Perth, Australia
11 Sep
@TRBRocks420
And they look SO CUUUUUUUUTE as puppies! Aw man I have to hug my dog right now lol Reading your favourite dog breed series just makes me want to hug my dog lol So I will.


• Banks, Oregon
11 Sep
Yes, very cute dogs too. What kind of dog do you have again?

• Perth, Australia
12 Sep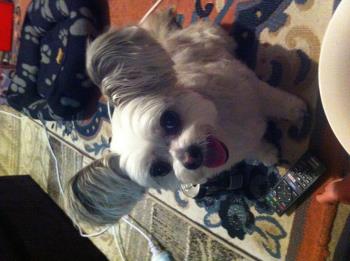 @TRBRocks420
I actually keep forgetting what mixed breed he is. He is smaller kind of doggy. A chihuahua mixed with....something....

I've attached a photo to show you him. Can't remember if I've shown you before.

• Banks, Oregon
12 Sep


• Redlands, California
12 Oct 16
So far we are pretty close in what our favorite dog breeds are.

• Banks, Oregon
12 Oct 16
There are so many to choose from and I love them all. So, it's hard, but doing my best.

• Redlands, California
12 Oct 16

• Rochester, New York
12 Oct 16
I have so many favorite dog breeds there's too many to count. I pretty much love them all really!!!

• Colorado Springs, Colorado
12 Oct 16
My sister had a couple of them. They were great dogs.

• Banks, Oregon
12 Oct 16
Yes, one of my favorites. I had a couple too.

• El Paso, Texas
12 Oct 16
They are an awesome breed which even the ancient Roman troops used to guard their carts, it's one of the oldest breeds in the world.

• Banks, Oregon
12 Oct 16
Yes, love Rottweiler's, one of the original herding dogs and, guard dogs, they can do both.

• Jacksonville, Florida
12 Oct 16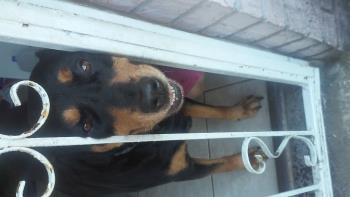 Of course I love Rottweilers, since I have one myself. She's such a sweet, loving dog who absolutely loves kids and licking everyone! Lol. She's a big baby but also protects our family very well. I hope you don't lose your internet! =(

• Banks, Oregon
12 Oct 16
She sounds like a awesome dog and, very pretty too. I have had a couple also thanks. I hope my data lasts until Friday.

• Waikoloa, Hawaii
12 Sep
i love rotties but i think 150 ppund is a OBESE roth