Top 5 Internet memes that annoys me!

Calgary, Alberta
October 12, 2016 12:13pm CST
I found many memes cool and funny like Grumpy cat, Trollface or the GIF of Tyra Banks "I was rooting for you! How dare you" and some Videogame and Anime inspired memes. Recently though there are some memes that annoys me and these are the top 5 Memes that annoys me: 5.Musically and dubsmash videos- there are actually people who managed to have careers and make money from lipsynching songs and movie scenes. There is a person in my country who managed to become a mainstream actress just because her dubsmash videos got viral. These videos are suppose to be funny but I don't find them funny. 4. Rick Roll- Seriously it is already 2016 and there are still people who baits people with Rick Astley's song " Never gonna five you up" 3. People begging for Thumbs up for Youtube comments- Do I need to explain this? 2.Political Memes- Yay Both sides trying to be funny by bashing each other. 1. Harambe Jokes- So a Gorilla named Harambe got killed by the Zookeepers because a little boy fell inside his cage and shooting the Gorilla is the only way to save the child. Tragic event isnt it? Well this became a source of Jokes on the internet. Mylot I think is the only place only with no Harambe jokes. Why the heck is this viral? it is not even funny.

#ricksoutforharambe Read the article: https://www.thesun.co.uk/news/1523131/trolls-mock-tragic-death-of-harambe-the-gorilla-as-sick-jokes-go-viral-across-the...
7 responses

•
12 Oct 16
I would have to agree with you about Harambe, the meme is in poor taste and people have mocked it to the point that noone really understands the motive being that a child could have been killed

• Calgary, Alberta
12 Oct 16
it is suppose to make Cincinnati zoo pay for their crime but I don't think it is helping. It is so distasteful indeed and It annoys me that this trash dominated the comment section of almost any website.

•
12 Oct 16

• United States
12 Oct 16
Yeah Rick roll is pretty annoying now. I do like grumpy cat though.

• Calgary, Alberta
18 Jan 17
There is a new meme that annoys me, the saltbae meme.

• Calgary, Alberta
12 Oct 16
I really cant stand Harambe Jokes.

• Oklahoma City, Oklahoma
18 Jan 17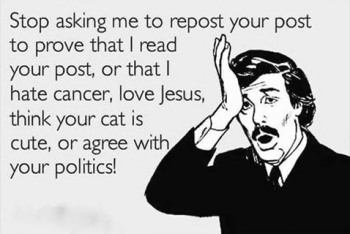 The ones
I
hate are the ones that try to 'guilt' you into "Like"-ing and "share"-ing and "comment"-ing 'Amen!' (like as if that means something like 'yippee-skippee!')---usually 'Thumping' that Gospel-verse about 'If you praise me before the people, I will praise you to Our Father God'


• Calgary, Alberta
29 Sep 17
I have a cousin in facebook like that,



• Calgary, Alberta
18 Jan 17
I cant believe the Harambe jokes are still around

• United States
18 Jan 17

• United States
19 Jan 17
A lot of memes are very aggravating. So glad I no longer have a FB account.

• Calgary, Alberta
29 Sep 17
they are getting worst than ever

• Roseburg, Oregon
13 Oct 16
People laugh at things that are not funny all of the time.

• Calgary, Alberta
29 Sep 17
their sense of humor shows how shallow they are.