Up, Up, and Away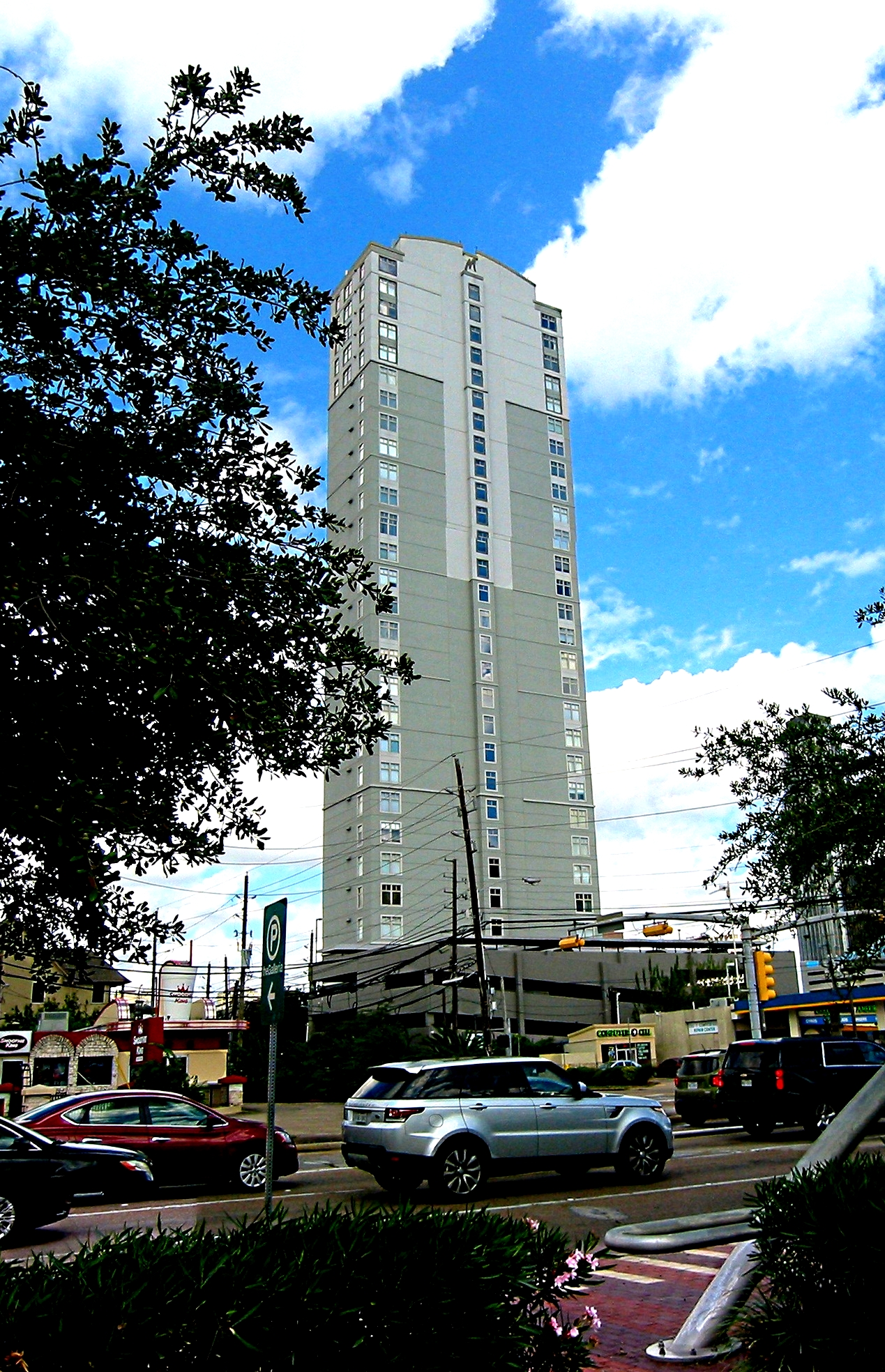 Goodfellow, Texas
October 12, 2016 4:12pm CST
Up, Up, and Away - What's a person going to do when the street is narrow and the building is "heading for heaven tall?" I was heading back from a quick lunch with one of my buddies today. As I drove down the street, way up ahead of me was this super tall building sticking its head up into the clouds. "What building is that one?" I wondered. Never saw a building like that on this side of town before now." So, when I got closer and closer to this building, It seemed to get taller and taller. Yes. There it stood, some kind of apartment-condo thing, the name of which I do not know, but the sight of which was quite surprising, sticking up there kind of like a giant wart on the backside of progress. I pulled into a convenient parking lot across the street from the building and pulled my little Canon camera out of its camera case hooked to my belt. When I looked through the camera's finder, I could see only up to about the fifth floor. "Time to make a panoramic set of pix so I can get the whole of this giant building into one picture." It required five images to go from the bottom of the building to its top and to catch a little of the street below and the pretty clouds above. That done, it was homeward bound for these captured images and, of course, for me and my belly full of lunch. Into the computer and onto the screen. There's the vertical panorama for us to look at. Gotta do things this way unless you have a camera with some sort of super-wide angle lens - which I do not have. I think that the pano picture is just as good (maybe) and surely not nearly as costly as would be a special lens which, bye-the-bye, could not be stuck onto this little camera, anyway. The lesson from this little lunchtime tale is that you can usually make some pretty good pix even when space, time, and hardware try to tell you that it is not possible to make them. * * * * * * * * * * Image source: Gus Kilthau * * * * * * * * * *
6 responses


• Goodfellow, Texas
13 Oct 16
@LadyDuck
- Ms Anna - When I am next in that area of town I will strive to go to the other side of the building to see if the foreground on that other side is not as cluttered as is the foreground of the image above. I do not make many vertical panoramic images, but they are there when you need to have them. -Gus-

• Goodfellow, Texas
14 Oct 16
@LadyDuck
- Ms Anna - You will find that panoramas follow the same rules of production when their orientation is either horizontal or vertical. Makes me wonder if anything might be possible with panoramas that are oriented "back and forth," that is, in a third dimension other than horizontal or vertical.

-Gus-



• Goodfellow, Texas
13 Oct 16
@pgntwo
- Friend PGN - I remember coming over some limitations one time. Actually tripped over the things. Made me wonder why there were no regulations regarding the need for the posting of danger signs around limitation zones. Lazy legislators. As an aside to all of this serious stuff, I have been wondering how it was that the commercial savings bank, into whose auto parking lot I went to make the panoramic photos, did not send its guards out after me as I worked such magic out in their front yard. -Gus-

• Goodfellow, Texas
13 Oct 16
@pgntwo
- Friend PGN - There was a time during which I actually owned and used a "Box Brownie" given to me by my parents. Had they only known ... -Gus-


• Alicante, Spain
13 Oct 16
yes I've got that panoramic function on my phone camera, and have used it quite successfully several times... it's very clever and handy... and like you say ... cheaper than a special lens...



• Goodfellow, Texas
13 Oct 16
@sueznewz2
- My digital camera is so old that it collects Social Security each month. I don't know if it has an automatic sort of panorama function, but I simply shoot frames with a little overlap and use the computer program to stitch the things together. -Gus-

• Alicante, Spain
13 Oct 16
@Ceerios

I like it... old cameras well you and the computer have dkne a good job.


• Goodfellow, Texas
14 Oct 16
@sueznewz2
- Ms Susan - Like me, both the camera and the computer are really very old. That camera is one of the original Canon (brand) digitals. It has only a 1.7MP resolution, whereas today the digitals usually have at least 10MP resolution. The image editing assists in sharpening the images, and that is good fortune for me (who cannot afford to buy a good digital camera right now.) -Gus-

• Garden Grove, California
1 Nov 16
cobgrats for that ph0t as 8t is really good shows ur the hiight of te building and makes me wonder if I would ever be able to live yo b tg highest floors I fear hieghts

• Goodfellow, Texas
1 Nov 16
@hatley
- Ms Patsie - Good of you to tell me such a nice thing about the photo. I have to head out in that direction on Wednesday and will be trying to get a set of photos from the other side of the building. The area is kinda crowded over that way, so I have to shoot the image as I would any other panorama - but this time shoot it in up and down sections that I can later stitch together into one whole photo. AND - I am with you on the "I don't like heights" stuff - UNLESS I am up there flying around in an aircraft with my hands on the "stick" and my feet on the rudder. Funny how that is. Must be a matter of feeling like I am still in control even way up in the clouds - but not so in a tall building. Don't like those at all. -Gus-

• India
13 Oct 16
And if you happen to be Ceerios...


• Goodfellow, Texas
13 Oct 16
@responsiveme
- Friend ARM - ... or if you happen to have a "stance" (as in "happenstance.")