Favorite Dog Breeds # 2 The Labrador Retriever.

Banks, Oregon
October 13, 2016 4:34am CST
Coming in at # 2 on my favorite dog breeds series is one half of what Rooger is the Labrador Retriever. Labs are probably the nicest dogs there is, just a very loving and, playful dog, they will lick anyone that comes in the door to death, they also only bark if something scares them or a unknown noise, surprisingly thus far from my experience they don't bark at dogs or humans lol only odd refrigerator's, thunder and, sometimes the cat, if it goes by his food. Labs are also great hunting dogs, rescue dogs, guide dogs, one of the smartest dogs there is and, they are also great swimmers, they come in black, chocolate and, yellow. Rooger is black, with big muscular build, round stomach big head and, I love how they always have their tails wagging and, floppy ears lol.
11 responses

• Green Bay, Wisconsin
13 Oct 16
I've had labs as well and I agree, they are a friendly breed. However, I think there is one friendlier than a lab and that is the border collie. That was my dog for 14 years and there was none friendlier than he was. Pip was a lab mix and my last dog and she was also very friendly. So those would also be my top two dogs.

• Banks, Oregon
15 Oct 16
Yes, they are great dogs and, I know Collies are too. I have never had the privilege of owning one though.

• Philippines
13 Oct 16
I was fortunate to have owned a black show type English Lab a few years ago, that's right they love water cause they decended from an extinct water dog, with our hot climate, I had to bath him a lot at night and give him very cold water to drink. Yes they are one of the most lovable dogs.

• Banks, Oregon
15 Oct 16
Yes, I think Labs and, Newfoundlands love water the most.

• Philippines
16 Oct 16
@TRBRocks420
their tails are actually paddle like adapted for swimming, think they were originally employed to retrieve fish

• Banks, Oregon
16 Oct 16
@louievill
Yeah, Ducks too and, other small animals.


• Banks, Oregon
15 Oct 16
Yes, everyone I have met is just a very nice dog.

• Colorado Springs, Colorado
13 Oct 16
I love labs. A friend had two chocolate ones.

• Banks, Oregon
15 Oct 16
Me too they are really great dogs.

• Jacksonville, Florida
13 Oct 16
I do also love Labs! We have had a few labs and they are great dogs once their not puppies anymore. Lab puppies are the worst from my experience with chewing everything! Once their grown though they are amazing dogs. =)

• Banks, Oregon
15 Oct 16
They are such friendly dogs and, love kids, also speaking of chewing Rooger is chewing his new rope toy now lol.

• Canada
13 Oct 16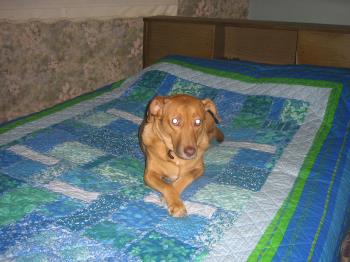 I love a lab, they are such a best friend dog. Santa brought our son a lab puppy one year, he loved her so much, named her Nayla-from the Lion King. We all cried our hearts out when she passed away. This is a picture of her a few months before she passed.

• Banks, Oregon
15 Oct 16
She looks like a very sweet dog and, no better present than a dog, sad she passed away.


• Banks, Oregon
13 Oct 16
Yes, they love everyone it seems like lol.

• Moses Lake, Washington
16 Oct 16

• Banks, Oregon
16 Oct 16
Hello Leah we have the same dog dish lol.

• Moses Lake, Washington
16 Oct 16
@TRBRocks420
Leah says" Woof! And that dog dish is supposed to be a bread bowl but I drink so much water that Mom turned it into a watering pan. She hasn't said the "hog" word yet but I'm waiting...."

• Rochester, New York
13 Oct 16
My next dog is going to be a German Shepard and I'm going to name him Karma. lol He'll be a rescue dog of course. My brother had a chocolate lab named Buddy. They gave him the name King, but he only answered to Buddy so the name stuck.

• India
18 Oct 16
@TRBRocks420
I had a chocolate colored Labrador only for two years.Very nice breed,very affectionate.