What to do? 10/14/'16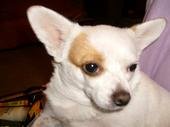 Holiday, Florida
October 14, 2016 8:10am CST
Well just when I start thinking Coco is over it all and I should go and take her with me and move to AZ she has a seizure and I think oh no, need put her to sleep and stop being selfish because I can't stand to loose her. Daughter has been suggesting different things that seem to help. We think it could be her heart because she has a heart murmur for years. maybe its just worse. then these type of dogs have breathing problems because of the trachea and esophagus. usually a good walk and soft easy food and the pills the doctor gave,and some over the counter benedryl and she is okay for days. I will have to say a lot has calmed down here since I said I will move to AZ again. Even Clay seems so much nicer. He didn't like me saying I may have to put Coco to sleep and has walked her for me for 2 days now. Also it seems we have one problem in common. won't go into that. People in the house are more concerned if I have eaten or if I am alright because I have lost so much sleep and worried about coco. enough that it is making me sicker. Obviously stress and depression makes a person physically sicker. So, like I said, going nuts here as to whether I am selfish to keep her or put her asleep. I just keep dragging my feet about letting her go. At night she sometimes acts restless and in pain over the allergies. Chews her feet raw until I fuss at her. Then I feel guilty because I think she is in pain and don't know what to do. Daughter says if she has infection the blood test would have showed it. but then I have had several surgeries done on her for years and never had enough to test for cancer. but daughter says it would have shown in the blood test. Is that true? I was told to test for cancer it would be 400 dollars, 4yrs ago when I had a second growth removed from her paw and had spent so much already could not afford the test also. vet bills can really add up.
9 responses

• Calgary, Alberta
14 Oct 16
Our shitzu had an ovarian cancer. To end her suffering, we decided to let her sleep forever. While the vet doctor was giving her the injection, she was staring at us . . as if crying inside and saying goodbye. All of us were in tears . . our daughter was sobbing.


• Holiday, Florida
15 Oct 16
that is another problem I can't resolve, whether to go be with her or if I can stand it.


• Holiday, Florida
14 Oct 16
oh i do everything for her. even forget my own meds and such at times.

• Calgary, Alberta
15 Oct 16
@bunnybon7
No, no, don't ever, ever forget your meds . . . your life is the most precious thing you have, so it is above everything!


• Holiday, Florida
15 Oct 16
@antonbunot
problem is when you are loosing one of such preciousness to you, hard to think of yourself


• United States
14 Oct 16
It is so hard to decide what is right to do when a pet may be suffering. Watching them suffer is heartbreaking. I always let the veterinarian make the call if one of our old pets was suffering far too much to have any quality of life.

• Holiday, Florida
15 Oct 16
I really want to do that and probably will stretch it out because of my selfishness but then I feel so guilty. she is like a baby to me even though we are just 2 old ladies.



• Holiday, Florida
15 Oct 16
my daughter is the one takes her since I really can't go. the vet has not said if I should put her to sleep but my daughter seems to think it might be best because of her suffering and my disabilities to run after and take care of her so much. I feel I fail coco a lot not being able

• United States
15 Oct 16
@bunnybon7
it is so hard, we had a dog with cancer and was blind. We had to do it for him and it hurt so much. I know it will be hard for you too if that is what you end up doing

• Holiday, Florida
15 Oct 16
@mom210
she seems okay for days then has another seizure can't find out the real problem, so I keep trying to tell myself its for the best but then that little voice in my head, "but what if?" you know



• Holiday, Florida
15 Oct 16
yes and that is my dilemma besides the money problems. I keep wondering if having help, I can keep her longer. so I am going crazy figuring what to do.

• Switzerland
16 Oct 16
@bunnybon7
Do you have the feeling she suffers? If not you can help her with the pills and wait.

• Holiday, Florida
20 Oct 16
i see her suffering at times and feel bad i can't help.
@LadyDuck


• Garden Grove, California
25 Oct 16
It hurts me to s aty this bunny but I think its time to let poor c'ocoa go as she sounds like shes really hurting this is ev en hard for me to say as im crying fo r you 0lkd friend hugs

• Holiday, Florida
26 Oct 16
yes I did though I cry every day but I know it should get better

• United States
16 Oct 16
Get a jar of coconut oil and rub it on her paws. It is less than ten dollars, and will not hurt her, but it may heal up the itch as it is very soothing. She will probably lick it. Princess loves it. She thinks it is a treat.

• Holiday, Florida
20 Oct 16
i would have if i saw this earlier but sadly because of all the different pains and problems, i have decided i have to have her put to sleep. just to much torture for both us to keep trying to help her.

• Green Bay, Wisconsin
15 Oct 16
I am so sorry Coco is not doing well. I know that adds to your stress and eating problems as well. I hope she starts feeling better so you don't need to put her down. That's a very hard decision to make.

• Holiday, Florida
15 Oct 16
yes and then the problem is, when she feels better and acts better a few days, I start thinking I should keep her with me. then when she has a seizure or chews her feet raw and I don't know what to do, I feel I should have stopped her suffering already

•
4 Mar
You are not selfish. You just want a furry loved one with you longer. I did that wit my dog. I loved her so and tried to find ways to keep her with my cat and myself. Nothing worked so I had to put her down and I hated it too.