2 cents worth.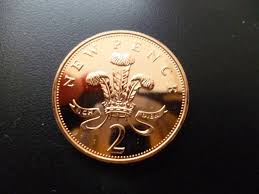 Dundee, Scotland
October 14, 2016 3:41pm CST
Or as we say tuppence worth. I just got a shock. I found a 2p piece. So why is that a shock I hear you all ask? Well because I had no idea that I was so wealthy!! And now I will be double lucky. See a penny pick it up all day long you,ll have good luck. Pity its nine thirty at night already. Maybe I will be lucky. Maybe the cats will shite out gold poops!!. Have you been lucky of late? Here is a picture of a 2p piece.
8 responses

• Sheffield, England
14 Oct 16
I found quite a lot of cash today when I picked up my husband's trousers to put them in the wash and he hadn't emptied his pockets. There must have been about 15 quid there in coins. I don't know how he manages to walk with pockets as heavy as that.

• Dundee, Scotland
15 Oct 16
I couldnt. That would do my head in. Did you tell him and give him the money?.

• Green Bay, Wisconsin
14 Oct 16
I hope your luck continues. Nice. I've never seen a picture of one before.

• Dundee, Scotland
15 Oct 16
I hope i get some real luck soon I really do. So do you not have a two cent coin in America?

• Green Bay, Wisconsin
22 Oct 16
@saulgoodman
No, we don't. We did have a $2 bill, though, but it's been out of circulation for quite a while, so getting one of those is a real find.

• Dundee, Scotland
22 Oct 16
@just4him
How much would one be worth? I might start looking for one.



• Dundee, Scotland
15 Oct 16
Aye me too. Its a bit like winning a prize on the euromillions like two quid.

• Ciudad De Mexico, Mexico
14 Oct 16
That last time I found money was around two years ago, while walking by the park. I found three coins which bought me a good meal for that day.

• Dundee, Scotland
15 Oct 16
At least you found enough to buy a meal. I thought about becoming a beggar.


• Dundee, Scotland
16 Oct 16
Would you share any good luck you had with a homeless stranger negging for a plate of hot food on a freezing cold day?

• Dundee, Scotland
18 Oct 16
@ms1864
We always offer to buy beggars food. If they say they want money we walk away. I dont understand how beggars can have iphones

• Bournemouth, England
15 Oct 16
The other day I was short-changed £2 in the post office and then immediately afterwards found 1p on a nearby pavement. Even investors in some bailed-out banks have done better than that.

• Mumbai, India
15 Oct 16
Just recently i was cleaning my luggage bag and at my surprise i found 5k INR approx bundled in one of the pockets. Hurray!!! I shouted. It was a kind of lottery for me

• Dundee, Scotland
15 Oct 16
Yes. That would be like a lottery win for me also. Well done.

• Roseburg, Oregon
15 Oct 16
I feel lucky when I even pick up a penny. A penny saved is a penny earned.

• Dundee, Scotland
15 Oct 16
I would much rather have found £100 note. I dont really feel very lucky. 4 weeks no work is starting to badly effect the finances..