Do you use ceramic knife?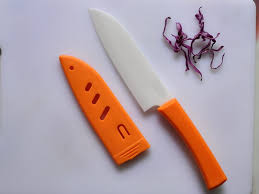 Guangzhou, China
9 responses

• Roseburg, Oregon
16 Oct 16
My knifes are all wooden and I have had them a long time.

• Cambridge, England
16 Oct 16
I think that you mean 'wooden handled'. The blades, surely, are made of steel?


• Philippines
16 Oct 16
we had a ceramic knife once. it was okay. i notice that it would stain, unlike steel knives. then i noticed there was a chip on the blade. then one day it broke. i don't know who because a lot of us here use it, but that was the first and last time we had a ceramic knife.

• Cambridge, England
16 Oct 16
I haven't ever used a ceramic knife but I have looked into them with interest. Their main advantages are that they are claimed to stay sharp for up to ten times as long as a steel knife and that the material does not react with any kind of food - acid or alkali. According to one major knife supplier, only the most expensive Kyocera knives are even worth considering. The others are not as sharp as equivalent steel knives. Although ceramic knives claim to stay sharp for much longer than steel knives, both will eventually require sharpening and the only thing which will sharpen a ceramic knife is diamond whereas a steel knife can be kept sharp by honing on a steel honer and reground when necessary using a corundum stone. Ceramic knives are much more brittle than steel knives and cannot be used for cutting through bones or for any operation which involves sideways pressure. I think that a professional cook and anyone who knows how to care for knives would always prefer a steel knife. Here is the link which describes how the supplier I mentioned tested the knives:

Ceramic knives promise to continuesly be extremely sharp. Practice shows different and therefore we don't sell them. Read it here.

• Jamnagar, India
16 Oct 16
Steel knives are clean to use provided that dont rust. Ceramics don't rust and clean as well. Are they fragile?

• Guangzhou, China
16 Oct 16
It depends on. Try to imagine if the ceramic knife falls on the ground, be sure it will be broken. So it may not be as durable as the metal knives. Ceramic knives can cut the meats, vegetables and so on. However, you can't use it to chop the bones.


• Guangzhou, China
17 Oct 16
@LadyDuck
In fact in China sometimes a good metal knife is enough. We often feel confused why foreigners need so many different knives. Our knife can cut or slice the vegetable and meats, it can also chop bones. Perhaps this is the difference between China and foreign cooking style



• Hangzhou, China
16 Oct 16
We always use metal knives.

• Hangzhou, China
17 Oct 16
@youless
I can't find it in the supermarket.


•
16 Oct 16
Heard of ceramic knives but haven't tried using one.


• Banks, Oregon
16 Oct 16
I have but I mostly use real ones.

• Toronto, Ontario
17 Oct 16
Never really tried one or have I heard of it- sounds interesting.

• Toronto, Ontario
16 Nov 16
@youless
I will look for one and see if they do!