When we will we see Fall around here????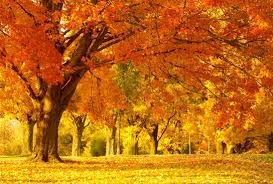 United States
October 18, 2016 1:37pm CST
It seems we have been waiting and waiting for ever for Fall to get here even since the first day of Fall!! I am so ready for it! It has been in the 90's and some days the 70's just off and on yesterday was in the 90's and today is in the 90's! The rest of the week is gonna be off and on temps! I am ready to open the windows forget the a/c and the high electric bill that goes along with it!! Ugh!! Hopefully soon the leaves will change colors and we can open the windows! I wish to see the colors of the tress like in the picture! Have you guys had Fall like weather yet? But I guess this is the way it is in Texas! Ugh!!
5 responses



• United States
18 Oct 16
It is already fall where I am at.

• Canada
18 Oct 16
All our leaves have changed and now they are starting to fall from the trees. We have a lot of bare trees now which is kind of depressing. We have had a very nice fall though with temperatures above average most days.