Todaiji Temple in Nara - Japan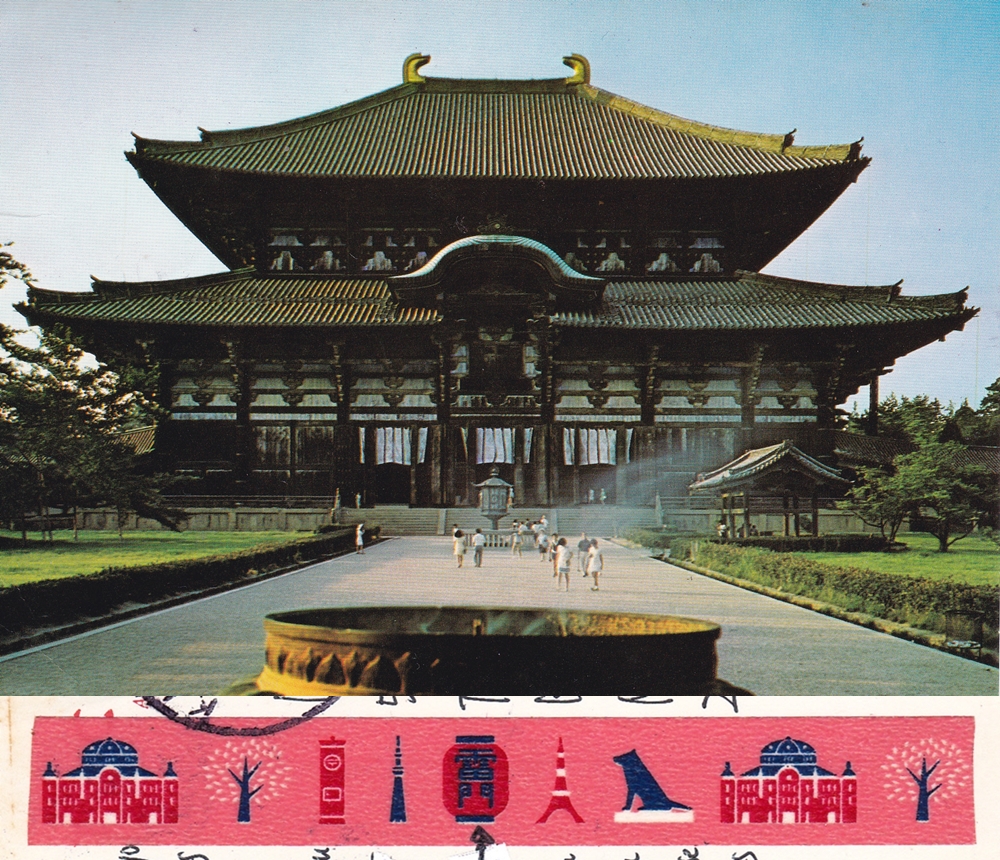 South Africa
October 19, 2016 4:38am CST
Delightfully another postcrossing postcard of the Todaiji Temple in Nara ~ Japan arrived yesterday with two beautiful stamps on the counterside. One stamp depicts the famous dish of "sukiyaki" which 'consists of meat (usually thinly sliced beef) that is slowly cooked or simmered at the table, alongside vegetables and other ingredients, in a shallow iron pot in a mixture of soy sauce, sugar, and mirin. The ingredients are usually dipped in a small bowl of raw, beaten eggs after being cooked in the pot' Very interesting as I dont think I have ever tasted mirin ~ "Mirin is an essential condiment used in Japanese cuisine. It is a type of rice wine similar to sake, but with a lower alcohol content and higher sugar content" An added extra was the Washi Tape in the middle which depicts the historical buildings in Japan, I have included it in my photo at the bottom of the picture of the temple. How beautiful to learn all these things in the form of a postcard and stamps.
10 responses

• Centralia, Missouri
19 Oct 16
not a temple I saw when over there, but we did find some lovely ones, I do love the way their temples look


• Banks, Oregon
19 Oct 16
That's an amazing looking temple.

• Philippines
19 Oct 16
I was amazed at this temple and if you did not mention "Japan" in your title, I would think this is in Hongkong. Last night, I was writing on my blog about my trip to the Chi Lin Nunnery in Hongkong and I have a somehow similar photo to the one you posted.

• United States
19 Oct 16
My son dreams of living in Japan.

• United States
20 Oct 16
@Inlemay
not sure ? He has had the desire to go as far back as childhood. He is studying their language and culture.


• Kiryat Ata, Israel
21 Oct 16
The temple looks interesting, why does it have horns on the top of the top roof ? What does this temple worship ? The Buddha ? Can you please show the stamps ? Do the postcrossing users design the postcards by themselves or they just buy it in their country and send to a random user from postcrossing ? Did the user write anything about the temple itself ? Any history of that place ? Japan is a very old nation and they invented many things, martial arts, origami...

• United States
19 Oct 16
As a retired teacher, I am thinking those postcards and stamps would be a terrific teaching tool.

• Switzerland
19 Oct 16
I have a bottle of Mirin in my refrigerator, it is sweet and not at all similar to Sake. I disagree with the description of Wikipedia of the Mirin. When I do not have I add 1 tablespoons of sugar to 1/2 cup of dry sherry, the taste is very similar.