Random thoughts and other things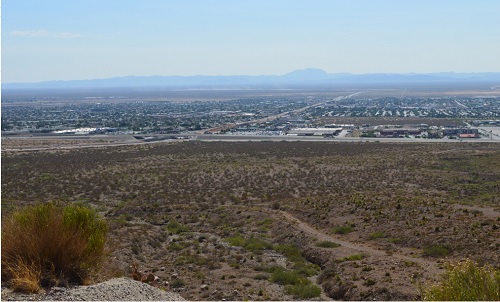 El Paso, Texas
October 19, 2016 3:07pm CST
Ok, I went through old shots and saw this one, I don't think I've shared it before, it was taken on Loop 375 when I was going down the mountain to North East El Paso ..... hummm, that sounds weird ..... ok, I stopped the car to take the shot, is that better?

So did I ever mention I don't watch typical TV? Yeah, it's all so boring anymore so instead of payin 100s of bucks for cable I pay for Netflix, Amazon Prime and recently Hulu, I'm not sure I'll keep Hulu though. Got a question for all the women out there, if you were confined to a wheelchair would you wear high heels? This thought was brought on by a few episodes of Arrow when his love was in a wheelchair. And that, folks, is what this old lady watches on Netflix.
3 responses


• El Paso, Texas
19 Oct 16
So, flats are ugly? I wear flats, I do not like heels as they limit proper movement. I've never seen anyone run (fast that is) with heels on.

• Uzbekistan
20 Oct 16
@rebelann
Did I say that flats are ugly? No, I didn't. Don't put words in my mouth. High heels are not good for walking, be it fast or slow. Women buy them because they like the looks. Why shouldn't a wheelchair-bound woman enjoy something beautiful, too?

• El Paso, Texas
20 Oct 16
It was a question
@MALUSE
which is why I used the question mark ..... I am not used to trying to write in a fashion that is easier for those whose first language is not English to understand so it will take a little time for me to phrase things in a way that will be easier to translate, I will work on it.


• Switzerland
20 Oct 16
This is a weird question but I would say why not. You are surely more comfortable wearing high heels white sit than walking. I know it does not sounds funny, but I prefer to wear high heels when I am invited to a restaurant than when I have to go out shopping.

• El Paso, Texas
20 Oct 16
Well, I guess that does make sense, heels are very hard to walk in and I personally have never worn them. I prefer the flats out there, at least if I have to I can even run which I have not had to do.

• El Paso, Texas
20 Oct 16
I tried to wear heels a few times when I was young but it never felt right nor was it comfortable
@LadyDuck
I'm all about comfort so I opted for flat sandals or boots with no heel or moccasins.


• Portsmouth, Ohio
20 Oct 16
I think Id pass on the highheels. But Id keep hulu I have dumped netflix and just keep hulu since I can earn gift card that pays for hulu Im cheap...It took me forever to free myself from cable but hulu give me that close to cable fix when I neeed it

• El Paso, Texas
20 Oct 16
I like some of hulu, the problem is they do not run older tv series so I have to go to either Netflix or Amazon to watch what I like, right now the only new tv series I actually like is Once Upon a Time, but I will watch just about any SyFy show as long as it isn't something that deals with zombies, those shows I find gross.