Super Typhoon Haima in the Philippines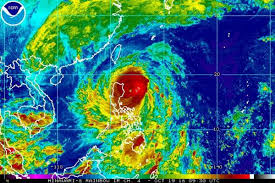 Philippines
October 19, 2016 11:54pm CST
As of starting this discussion we are experiencing heavy rains now we are so thankful it's not yet flooded in here.As of the moment there is no power interruption so I was able to start some discussions.I am in a part of the Philippines with storm signal no.1 and I wishing for the best with my fellow pinoys in Cagayan and in some parts of northern luzon.I know there's a lot of Filipinos here in mylot and I want to know if you are safe just make yourselves visible in any way here at mylot. .Be safe always. here's how strong and big haima is.
6 responses

• Philippines
20 Oct 16
it's bigger than haiyan but the winds are not that strong, still very strong, though.. i hope people in affected areas are okay.. so far haven't heard of many casualties like haiyan did before

• Philippines
20 Oct 16
@carexing25
yes that's correct but we are always on alert because we experienced flooding before .but it's okay we can still manage.It raining as per speaking .You too be safe!

• Philippines
20 Oct 16
@tipay26
the weather is fine here so far..

• Chile
20 Oct 16
Take care ,friend, and be safe!

• Philippines
20 Oct 16
@marguicha
thank you very much I appreciate it.As of speaking now there is heavy rains and don't worry we can still manage thanks again .and you too stay safe as well .


• Philippines
21 Oct 16
@Happy2BeMe
thank you very much my friend as of now there are no rains at all and I can see the sun now. ;) I think the storm has passed and we are thankful nobody was hurt.

• Canada
21 Oct 16
@tipay26
So glad to hear that. I was worried about all of you when I heard about it on the news here.



•
20 Oct 16
It hurts me seeing photos of Northern Luzon devastated by this typhoon.

Great financial losses but still thankful that people there are safe,