Pomegranate ice drops.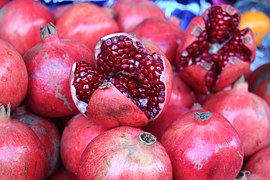 Greece
October 21, 2016 6:37am CST
Every year we have more pomegranates than we can eat due to having three mature trees on our land and some smaller ones that have just started to produce. Every year we try to preserve their life but if we leave them on the tree they burst and even in a net in cool cupboard they soon begin to decay. Although we give them away nevertheless too many simply dry up or go mouldy. This year I have found a solution – freeze them. It is a fiddly job peeling them and freeing the arils (seeds) from their neat little sections, but well worth the effort. Pomegranites are a proven health food containing fibre, protein, Vitamin C and Vitamin K as well as other benefits. One of which is that they reduce inflammation and also slow down the PSA rate in men. When frozen they lose a little of their redness but still look great scattered in food and are particularly great scattered over yoghourt or icecream.
8 responses


• Greece
21 Oct 16
I have never tried that because one seed has hardly a drip of juice and I imagined it would be more trouble than it was worth. What do you use to extract the juice?

• United States
21 Oct 16
Have you seen how chefs remove the seeds? They split open the fruit, hold half over their hand, and smack the back of the half they are holding with a wooden spoon. Out they fall in large numbers.

• Greece
21 Oct 16
No I've never seen that. The only thing I have noticed is that the ripe ones fall out easier. I shall give this a try.

• United States
22 Oct 16

• Greece
23 Oct 16


• United States
22 Oct 16
what a shame ya can't ship those elsewhere, places where there's a high demand 'n folks'd pay well fer 'em, eh? i freeze lots 'f fruits, e'en all the peppers (mercy, we'd a massive crop this year!) 've been sliced/frozen by heat. there's still loads more'n the plants. the hubs's been givin' 'em to the fella's he works with, too. wish i could eat pom's, used to love 'em when i could find 'em. alas, 'nother fruit that don't get 'long with the crohn's. so, eat some fer me, purty please?

• Greece
23 Oct 16
I'm sorry that Crohns is spoiling your pleasure. I was talking to a distant relative recently and she has Crohns. She can't work anymore and her days sound quite unpleasant when it flares up..

• United States
23 Oct 16
@41CombedaleRoad
no worries, hon. always figure such could be worse :) bless yer relative's heart, those flares aint much fun...nor the several weeks to a month 't sometimes takes to get o'er such. i'd not wish't'n my worst enemy.

• Greece
21 Oct 16
If you can get them in your country they are well worth investigating.