Clowns that do not make anyone laugh.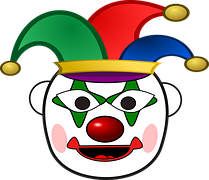 Greece
October 21, 2016 12:39pm CST
A really sick craze has arrived in the UK known as scary clowns. For some reasons there are people wearing face makeup and clown costumes going around pouncing on people. Children are scared, adults are scared and no one thinks it is funny at all! Hopefully the police will crack down on this quickly. Personally I have never found even regular clowns to be funny. I think they disturbed me even as a child because they were supposed to be funny, big laughing mouths, but they had tears painted on their faces too. I didn't know what to make of them and never did like slap stick comedy much either. I feel sorry for children, so many things that once were enjoyed by children have been spoiled by adults.
9 responses

• United States
22 Oct 16
mercy, seems to be country hoppin' :( i feel fer young'uns, too. so much's changed jest'n the past 20 years. kinda makes me glad i aint raisin' any 'n i fear fer my grands safety ('n sanity...) constantly these days.

• Greece
23 Oct 16
I think it must have come from the States first and it seems not to have jumped the Channel to Europe yet. Hopefully it will drown on the way if it tries.

• United States
23 Oct 16
@41CombedaleRoad
i sure hope such does, hon. i reckon folks doin' those youtube videos 'n other social media made such spread like wildfire :( shame there aint no regulations fer such, eh?

• Greece
25 Oct 16
@crazyhorseladycx
I have never understood why Utube and other outlets were allowed to get away with so much in the first place. It seems that the bad is so quick to exploit the good.


• Eugene, Oregon
21 Oct 16
We too have had a rash of scary clown things in the US. I wrote a week or so ago about so many popping up around the country. In today's newspaper, it says that, in the town next door, a young (28) woman's scary clown mask was confiscated after two children knocked on a door and said they were chased by her. She denied that she chased them and was given a stern warning and lost her mask.

• Greece
21 Oct 16
It must be the internet encouraging this. People seem to love trends, that ice bucket craze was a silly thing but at least it did not do any harm and it raised money for good causes.

• Eugene, Oregon
21 Oct 16

• Greece
23 Oct 16
@JamesHxstatic
Perhaps at heart we enjoy being scared from time to time.


• United States
21 Oct 16
This is happening all over the U.S., too. Actually I really think there were only a couple of actual sightings, and a lot of false reports. One theory I read was that it might be some sort of promotion for something, which is certainly possible if it is going world-wide, but it's been awhile now and no one is owning up to it. I think the whole thing is stupid, and it's not going to end well, so many people saying they'll shoot anyone dressed like a clown, and things like that. I was never much of a fan of clowns anyway, but it is a shame to ruin something that is supposed to be fun.

• Greece
23 Oct 16
If people threaten to shoot clowns then it is only a matter of time before someone does. Let's hope it stops after Halloween.

• Alicante, Spain
22 Oct 16
I've not heard of this....is it because halloween is coming...? I'm not very fond of clowns either..., like you say I hope the police, don't let it get out of hand...

• Greece
23 Oct 16
It seems not to have got any further than the US and UK.

• Defuniak Springs, Florida
21 Oct 16
We've had them here here for a month or two.

• Bunbury, Australia
8 Nov 16
The craze found its way to Western Australia too. I think some people are really sick with the things they think are funny.

• Green Bay, Wisconsin
22 Oct 16
I've been hearing a lot about that even here. It is sad. It takes the joy out of being a child.

• Boise, Idaho
21 Oct 16
We had some clowns at a college here hurting people too. What's up with that? Yes clowns used to be so fun to watch. I was brought up on Bozo myself who was a popular clown with a TV show.

• United States
21 Oct 16
Such an awful thing to do to people. I hope the police really catch these people who are acting so irresponsibly. I remember reading about the "knockout game." Idea came from Europe and spread to cities here.

KNOCKOUT Game - Vicious New York GANG Craze. Random BRUTALITY. The New Fight Club. The "knockout game" is one of many names given to assaults in which, purpo...