Russia's Vodka in China ?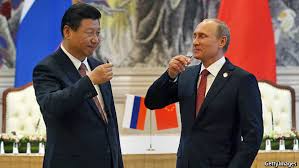 Hyderabad, India
October 22, 2016 5:51am CST
The two Communist Countries are going with hands closely in . The U.S Government has already imposed strict sanctions pertaining to exports and prohibition of certain goods to import from China which resulted in crippling economy of China. The E.U and U.S have also tighten the screw in respect of Russia and made the Putin Administration face a bad economy. The Economy in both the countries being targeted they both are moving in close hands with each other.
2 responses


• Svalbard And Jan Mayen
22 Oct 16
The main losers of the economical sanctions against Russia are EU countries. During the embargo the agribusiness has improved in Russia, and EU lost a large part of the Russian market. The same thing happened long ago after the 1917 Revolution in Russia. The 2013 embargo was also forbidding to Russian business to access to the European and American share markets, so they went to China to find money. This alliance between China and Russia is the logical result of the economical sanctions against Russia.