One Thing Leads to Another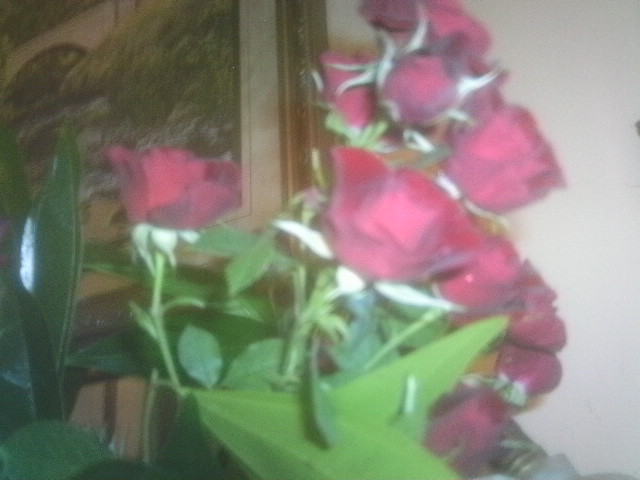 United States
October 23, 2016 8:29am CST
My photo is of roses I received once. You best cut off the thorns before handling them. In my last discussion a friend used the word "rambles". Thanks to @sallypup using that word, "rambles" I thought of "brambles", stickery growing things. I do not have pictures of brambles, so I thought roses would do. I do have a wild vine that tries to take over my entire yard. It is call a Green Briar. Briars, like brambles, are very stickery and pokey. My research tells me it can grow up to ten meters high. Also I have learned that it has edible roots, and shoots. The plant is nearly impossible to kill. I think I may try eating it next spring, just to see. I have heard that the new tendrils taste a lot like asparagus. In my herb classes we talk a lot about foraging for herbs for food and more particularly for medicine. I have used some herbs to soothe that wasp sting last year. People who live in urban areas tend not to forage, and in a way it is just as well as local herbs and weeds would be contaminated with auto exhaust. So, do you forage? Do certain words remind you of other words and make you just want to talk? My dad used to say nursery rhymes to me, or at least one or two. I am not sure why he liked the ones he did. One of them has a briar in it: "Intry, Mintry, country corn, apple seed and apple thorn. Wire, briar, limber locks, three geese, all in a flock. One flew east and one flew west and one flew over the cuckoo's nest." Enough of my bramble ramble this morning. I will be seeing you later.
7 responses

• Moses Lake, Washington
23 Oct 16
What a breath of warm air to wake to! Thanks. Something to look to when Spring comes around again. I'm glad I could be of help to you. You must know Euell Gibbons, the father of foraging? Your Dad sounds like he was a good guy. A nurturing kind of parent. Best kind.

• United States
23 Oct 16
It is funny. I have more of those kinds of memories of my dad than of my mom. Both were good parents and I am pleased my dad is still living. I am familiar with the name Euell Gibbons and have heard the jokes as well, but I think I may need to read some of his stuff.I have a veritable feast in my yard, I know.

• Moses Lake, Washington
23 Oct 16
@GardenGerty
Same here about my Dad. He taught me to sit very still in the woods so that the animals and birds would forget I was there and then carry on about their business. And morel mushrooms. Wish I could get them here. I'm glad you have such sweet parents.

• United States
23 Oct 16


• United States
23 Oct 16
That sounds very tasty. I am hoping to get to some sand plums before the deer do next year.

• United States
23 Oct 16
@GardenGerty
I wish I knew what those were, so I could look for them, too. Lol!

• United States
25 Oct 16
@DianneN
Sometimes called sand plums or sand hill plums, I am not sure if they are in your "neck of the woods" . They often form thickets, and the wild animals love to eat them, especially deer. The flowers are white, the fruit is not very big at all, about the size of an avocado pit or smaller. They are tart and turn a reddish color. I am sure you could look online and see if they grow near you.


• Centralia, Missouri
24 Oct 16
I wonder if that rhyme was once used to teach something, not sure what that something might be though

• United States
25 Oct 16
Wikipedia would probably tell us, if it was.

• United States
25 Oct 16
I find that my version is not quite right, it is cutry corn, and twelve geese. I see it as being part f a Eugene Fields poem, but also as a counting rhyme to choose who is it and also as a chant for skipping rope.

• Daytona Beach, Florida
23 Oct 16
Just love that nursery rhyme. Yes I do associated words with certain things. Here is the suburbs we have patches of forest in which we can pick mushrooms and perhaps find some naturally growing herbs we can use.

• United States
23 Oct 16
I would be hesitant on the mushrooms, for myself. Lots of good herbs around here, too.

• Daytona Beach, Florida
25 Oct 16
@GardenGerty
the forests here are usually full of known mushrooms that are edible.

• Boise, Idaho
23 Oct 16
I used to forage when taking hikes and such. THen when I got home I would check my herb books and see if I had identified them correctly.

• United States
23 Oct 16
I think that would be very interesting. I take pictures from time to time and then come back and check online.

• Boise, Idaho
23 Oct 16
@GardenGerty
......That would be a good idea if I had a cell or camera.

• United States
23 Oct 16
The only thing I forage are the raspberries that grow in a few parks here. I do not think we are to pick them, but I will take a few and pop them in my mouth when no one is looking. The dog will never tell on me. I do have one side of my home covered in yellow and red roses, and those thorns draw my blood every time I trim the vines.

• United States
23 Oct 16
I was once told that rose thorns are bad for causing infections but I bet your home is beautiful. I think if you take a few raspberries and leave some for the birds or the next person that is understandable. The discretion of your dog is to be admired.

• United States
23 Oct 16
All words make me think of things that I want to talk about. I am a nonstop thinker and talker.


• United States
23 Oct 16
Yeah, I am a talker too. Sometimes too much.