Die Hard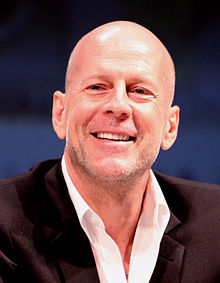 Riga, Latvia
October 25, 2016 5:03pm CST
I have seen all of the "Die Hard" movies starring Bruce Willis and my favorite one is the third movie "Die Hard with a Vengeance" because it was filmed in my hometown New York City. Anyway the first of the series "Die Hard" came out on July 15, 1988 in theaters all over the U.S. It starred Bruce Willis as a New York City cop called John McClane. "Die Hard" was based on a novel by Roderick Thorp "Nothing Lasts Forever, Die Hard". The movie was about McClane flying from New York City to Los Angeles to visit his estranged wife Holly portrayed by Bonnie Bedelia. There is a Christmas party going on at her workplace in a Los Angeles office building. The building gets taken over by a terrorist group that is led by Hans Gruber played by Alan Rickman. When McClane arrives there he suddenly finds himself single-handedly fighting against the bad guys. The movie received four Oscar nominations for Best Film Editing, Best Sound, Best Visual Effects and Best Sound Effects Editing. Bruce Willis first became popular in the romantic comedy/detective series "Moonlighting" on TV. It ran from 1985 to 1989 and he starred with Cybill Shepherd. The series was about a smart-aleck kind of private eye David Addison who runs a detective agency with an ex-model named Maddie Hayes. Willis and Shepherd were a great team and this was one great show. If you have the chance to see some of the episodes on YouTube or through cable definitely take a look. Once Willis had portrayed McClane in "Die Hard" he became one of Hollywood's top leading men. He went on to star in three sequels – "Die Hard 2", "Die Hard with a Vengeance" and "Live Free or Die Hard". Some of the other movies he appeared in are "Pulp Fiction", "Twelve Monkeys" and "Armageddon". In 1999 he co-starred in the horror film "The Sixth Sense" which was a great success and made the phrase, "I see dead people" popular. Altogether he has appeared in more than 60 movies. I remember the days this actor had hair and I liked him better then but that has nothing to do with his awesome acting talent. Bruce Willis was married to actress Demi Moore from 1987 to 2000 and together they have three daughters. In 2009 he married model Emma Heming and has two daughters with her. You could say that he's a ladies' man. http://www.history.com/this-day-in-history/die-hard-debuts-makes-bruce-willis-a-movie-star Wiki image
6 responses

• Los Angeles, California
25 Oct 16

• Riga, Latvia
27 Oct 16

•
8 Mar
Yep John. Good thing you did not say the rest of it.

• Lake Charles, Louisiana
26 Oct 16
Bruce is one of the most underrated actors in Hollywood. His Die Hard films have to be good if critics lampoon them as being Looney Tunes movies.

• Riga, Latvia
27 Oct 16
Then let them tell me which one had Bugs Bunny in it
@Deepizzaguy

• Lake Charles, Louisiana
27 Oct 16
@RasmaSandra
Good question since I never did see Bugs Bunny in any of the Die Hard films which I enjoyed.


• United States
27 Oct 16
I liked the first one in the series best myself.

• Riga, Latvia
27 Oct 16
My favorite is the third one
@marsha32
showing my hometown NYC

•
7 Mar
Thank you for sharing this with us. I love Bruce Willis in Die Hard and anything he is in. I really is a Bruce Willis fan. I would love Die to come to Netflix and would watch them again.

• Rochester, New York
25 Oct 16
I'm a big fan of Bruce as well. It would be nice to see him in another Die Hard movie.

• Riga, Latvia
27 Oct 16