France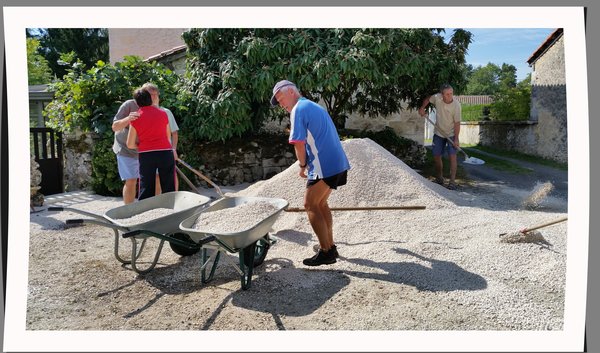 Mandurah, Australia
October 27, 2016 1:59am CST
I have just returned home from a road trip across France into Spain, Basque country. One of my most endearing memories is the time we spent visiting friends who had brought a home in a tiny Hamlet two hours out of Paris. I awoke one morning to the sound of an owl hooting and a woodpecker on the fence below my window and in the distance heard the rumbling of a huge truck. My friends had ordered stones to fill in the front of their house. When the delivery truck arrived it was quite a feat for the driver to manoeuvre it through an extremely narrow lane. He seemed to have only an inch of space on either side of the road. In this hamlet there were 8 houses and all the neighbours came to watch the event and cheered when the driver had finally completed his job. The neighbours went home and came back to our friend's home carrying rakes and shovels in their wheelbarrows. Within 20 minutes they had helped shovel all the stones in place. It was an incredible sight to watch these kind neighbours carrying out this deed. I couldn't help thinking that back home most of my neighbours wouldn't have even noticed the truck or the stones which needed to be raked over the ground.
8 responses

• Djibouti, Djibouti
27 Oct 16
You can see this kind of solidarity between neighbors only in the countryside, but there is also the other side of the coin : in these little villages everyone is spying on his neighbors, and it is sometimes difficult to not tell them to keep their noses in their business

.

• Djibouti, Djibouti
27 Oct 16
@LadyDuck
But it is a golden bowl in Monte-Carlo

. I spent 3 years in the countryside, and everybody was knowing when I was or not at home, was finding an excuse to come when I was receiving people, etc. People are certainly helpful, but I prefer large cities where nobody cares about what is happening in the neighbor's house

.

• Switzerland
27 Oct 16
@topffer
Monaco police is nosy. One of our neighbor was an Italian violin player in the Monte-Carlo Orchestra. He stopped me one day to say that he went to the police to renew his residence permit and the officer gently told him that he was a married man and should have stopped meeting with a certain young woman... He was horrified.



• Mandurah, Australia
27 Oct 16
@ladyDuck
I have finally found a photo for my post. I know what you are saying but my friend says his neighbour's have been great ever since he bought the house 3 years ago. Of course he spends his time between France and Australia so perhaps that helps.

• Mandurah, Australia
27 Oct 16
@topffer
I'm afraid I am ignorant on my French geography altho up to date on french history. We met our friends at Angouleme train station about 20 minutes from their hamlet. I remember the Loire valley being mentioned. Does that help. Perhaps you could fill me in 0:)


• Preston, England
27 Oct 16
great how everyone came out to help like that


• Canada
27 Oct 16
Sounds like you had a wonderful trip. It must have been wonderful to witness such such a thing with the neighbors. You don't see that happening in many places these days.

• Mandurah, Australia
29 Oct 16

• Roseburg, Oregon
27 Oct 16
That was nice of them to go and help. People around here help each other out all of the time/