Stuff to sell on Ebay...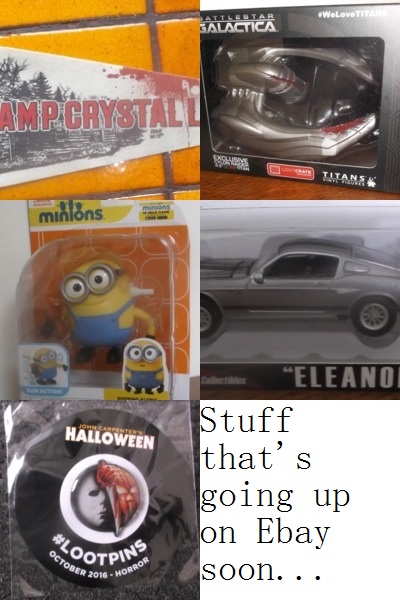 Petaluma, California
October 29, 2016 1:47pm CST
I went and took pictures of some stuff that I am going to be selling on eBay. The most recent Loot Crate Box I got was "Horror"--A box that I didn't even know I had signed up for, and a genre I'm definitely not into.

So, a couple of the things are from that, then another of the Loot Crate boxes was Sci Fi or something like that, and still another was "Speed" (hence the Gone in 60 Seconds "Elanor"). The Bob wind up minion was something that I got for Christmas last year. While I was appreciative, and Bob is my fave Minion, I had just bought the exact same thing for myself a couple of weeks before. So, hopefully I will be able to get one or two of the things up on eBay today.
3 responses

•
29 Oct 16
I hope your things has sold fast. Minion Bob is my favourate too.

• Canada
29 Oct 16
Best of luck. I hope you sell them all.

• Petaluma, California
29 Oct 16
I sure hope that I sell them all, too,
@Happy2BMe
!

• Canada
29 Oct 16
@xstitcher
be sure to let us know how you make out with the items

• United States
29 Oct 16
Good luck on your sales. I need to go post stuff up too.