Favorite fellowship foods!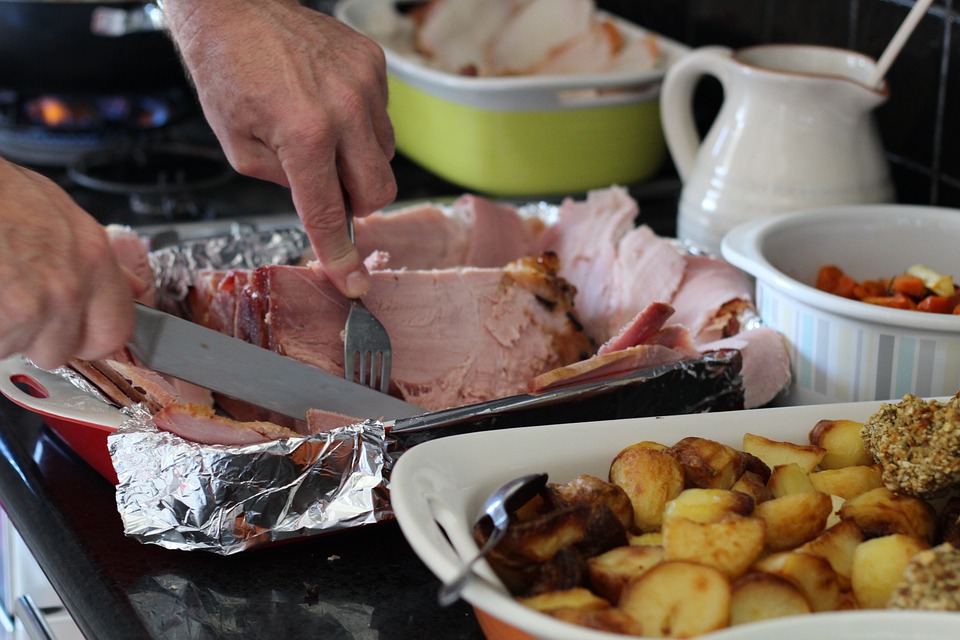 United States
October 30, 2016 3:12pm CST
We had a covered dish dinner after church today in our fellowship hall. My husband preached and I sang a special, so I really enjoyed that. I usually like to eat what the other ladies have cooked...I can eat my own cooking at home! Although, there are some dishes I'd rather skip over like collards and chicken salad. I don't do collards, I don't cook them and I don't eat them. In case you're not familiar with them, they're a leafy green veggie, similar to spinach. I don't eat anyone else's chicken salad unless I know them REALLY well. Just don't like the surprises I find in some people's chicken salad.

Today I took a casserole with smoked sausage, potatoes, carrots and onions and a broccoli casserole, banana pudding and of course, cold sweet tea. My favorite foods there today were chicken and pastry, green beans with bacon, pork tenderloin, barbequed pork, sweet potatoes, and all the yummy desserts.

When you go to pot luck dinners or covered dish dinners or dinner on the ground or whatever it's called where you are, do you tend to eat more of what you brought or what others have cooked? Photo by Pixabay
10 responses

• United States
30 Oct 16
I tend to eat what others have prepared. I am a lousy cook, and their offerings are much better than mine.

• United States
30 Oct 16
What's your favorite thing that others bring? Are you really that bad a cook?


• United States
30 Oct 16
@1creekgirl
Well, I am a do-not-like-to-cook-or-bake person and a vegetarian. My mom said she always begged me to learn from her, but she said I was always studying, so she never could get me to stop to learn to cook. I really do love the Jell-O salads others bring!! Some look like works of art to me.

• United States
30 Oct 16
@Corbin5
oh, I love Jell-O salads. I make one with lime Jello, cream cheese, pecans, celery and marshmallows. It's delish!


• Green Bay, Wisconsin
31 Oct 16
I love pot lucks. I tend to eat what others brought. I can eat mine any time. I don't eat chicken, anybody's chicken. I'm allergic to it. I need to be careful of those kinds of salads because chicken and tuna look an awful lot alike until you taste them. So I always ask. That kind of surprise I don't need. I have no trouble with deserts as long as they don't have peanuts in them. Another allergy. Still with all that people bring to those things, there's more than enough to fill my plate to overflowing. I'm glad you had a good day after church.

• United States
31 Oct 16
Thanks, Valerie. I'm sure you need to be careful with allergies. I don't eat just anyone's chicken salad, not because of allergies, but because I'm very peculiar about what's in it!

• Green Bay, Wisconsin
1 Nov 16
@1creekgirl
I know what you mean. I've seen strange things in potato salad.

• United States
31 Oct 16
'tis been a long while since i've been to such, prolly a good thingy coz i've so many food allergies i'd fear all the foods brought. that bein' said, depends'n what other folks brought coz i t'was purty fond 'f what i usually took, lol.

• United States
31 Oct 16
I'm sure with allergies you have to be pretty careful.

• United States
31 Oct 16
@1creekgirl
yes ma'am, cross-contamination can cause many troubles that most folks jest don't comprehend.

• Canada
30 Oct 16
I like to eat what others prepare. I can eat my own cooking any time. Your meal sounds like it was delicious. Glad to hear that you had such a wonderful Sunday.

• United States
30 Oct 16
Thanks. We have a covered dish dinner every 5th Sunday and I always love to hear my husband preach. (Except when he's preaching at me!)

• Canada
31 Oct 16

• Australia
9 Nov 16
I seldom go to those kinds of dinners because I end up eating more than I should .. people bring all the yummy foods that I had taste them all .. lol ..

• United States
9 Nov 16
I know, I always want just a tiny bit of all of it and end up stuffing myself!

• Daytona Beach, Florida
30 Oct 16
Haven't been to anything like that in ages. I do remember that the few times I went I preferred to eat what others made. In this way I could find new combinations to like and collect some useful recipes. You made me so hungry mentioning all that great food.

• United States
30 Oct 16
Someone always asks someone for the recipe!

• United States
30 Oct 16
That looks yummy! Whenever we have potlucks, I always bring lumpier, or the Filipino version of egg rolls. Or my signature pasta salad with y homemade dressing. When I am running out of time, I will bake some chocolate chip cookies - I just cheat and use the frozen dough from Hershey's. I tend to eat more of what I cooked myself, or those which came in packages. Not being a food snob, but I have had food poisoning from pot lucks before. I know it is not right to blame anybody, not that I would, but I also do not like being sick.

• United States
30 Oct 16
I can understand your reluctance after getting sick!


• United States
30 Oct 16
So does that mean you're a good cook, but just don't like what you cook?

• Banks, Oregon
30 Oct 16
Sounds like a great day and, lots of good food.