I've Stood in The Cold, I've Stood in the Rain....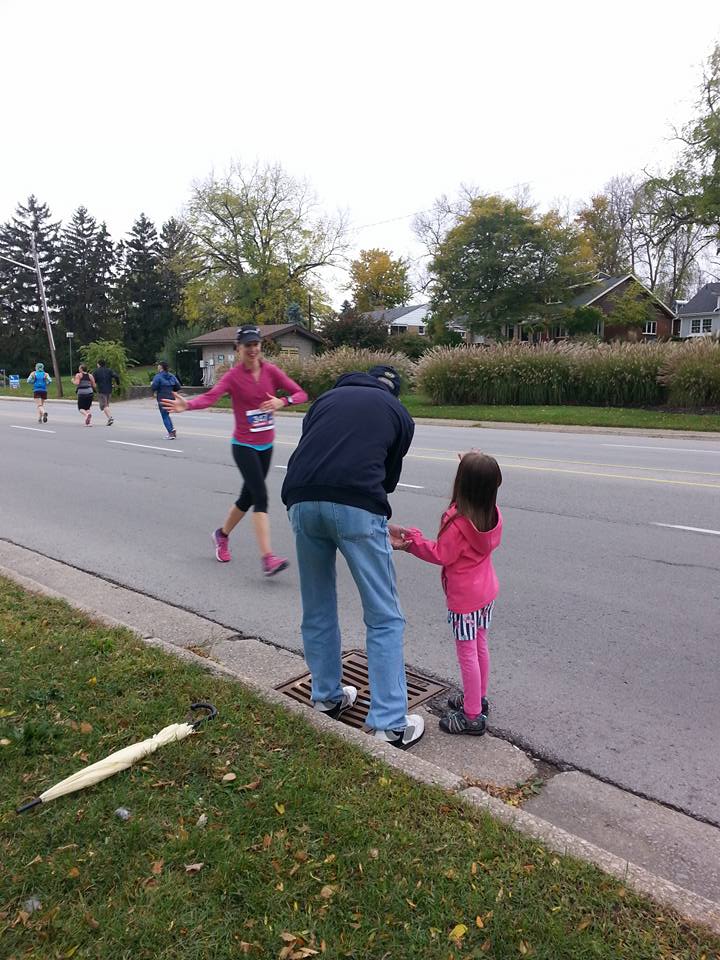 Canada
October 30, 2016 7:55pm CST
This morning we were fortunate that the rain held off for at least part of the marathon. One of our daughters is a runner. She runs in marathons. She has run in the Boston Marathon and the Chicago Marathon as well as many, many others. My husband and I have stood in the cold and in the rain to cheer her on. She has told us what a lift she gets when she seen a familiar face along the 40 kilometre route.. The year she ran in the Boston Marathon the entire family travelled to Boston (8 hours away) to cheer her on. Once she had passed the point where we stood, we all got back in our cars and drove another 8 hours home. This morning the race began in Buffalo, New York and ended in Niagara Falls, Ontario. On Saturday she, as well as the other runners had to pre lead customs to compete in the race. We watched her running down the Boulevard, on the one piece of the race that looped around. My son inlaw, a long haul truck driver was on the Peace Bridge when she passed. We heard him blow his air horn. This seemed to start a cacophony of horns on the bridge. Unfortunately the rain began in earnest about half way along the race. The cold wind was unpleasant before the rain. It was doubly so once the rain started to fall. I admire my daughter with her dedication and drive, but I am not and will never be a runner.
10 responses


• Canada
31 Oct 16
This is an annual race. It takes a lot of cooperation from both sides of the border. It's actually really funny that my son inlaw was heading into the states at the same time....the bridge delays (one of the three lanes was closed to traffic) were a nightmare. You had the marathon as well as people heading "over the river" to a Bills game.

• Cagayan De Oro, Philippines
31 Oct 16
@Morleyhunt
Maybe the prize is attractive.Is there consolation prize for non-winners?


• United States
31 Oct 16
what devoted folks ya'd be! i admire yer daughter fer runnin' those marathons, jest's the others who've such dedication. i'm with ya, i don't run 'n less absolutely necessary. tend to fall down these days :)

• Canada
31 Oct 16
I admire her, but do not as Ire to match that accomplishment....I'll stick with climbing trees, lol.

• United States
31 Oct 16
@Morleyhunt
ya can still climb trees? ah now i'm a tad jealous, lol.

• Philippines
31 Oct 16
i was think and never active. in fact, i even walk slow, which i now regret. someone in my family also runs and travels to different places to participate.

• Canada
31 Oct 16
One of the first runners to pass our viewing spot was a runner from South Africa.

• Marion, Kansas
31 Oct 16
I imagine you are very proud of her, even when you are out in the cold and rain.

• Canada
31 Oct 16
We are so proud of her. My daughter inlaw and my youngest daughter both ran in a 5km race in Myrtle Beach last weekend.. No they still don't inspire me to run.

• El Paso, Texas
31 Oct 16
That is one thing I could never do, my ankles buckle when I try to run .... I'm not sure what other word to use to describe it, but it hurts. I used to love to walk but I've gotten way too lazy in my retirement. Too bad they don't have flying fingers marathons.

• Canada
31 Oct 16
I've never been a runner.....now I can walk for hours, but breaking into anything resembling a run will only happen if my life is in danger. (The running will probably kill me.)

• Wausau, Wisconsin
31 Oct 16

• Canada
31 Oct 16
My granddaughter was giving her aunt a high five with the help of her grandpa (my husband).

• Canada
31 Oct 16
As one of my daughters stated....we don't even run to catch a bus! Lol

• Cagayan De Oro, Philippines
31 Oct 16
That is god of you having an athletic daughter. I remember that Boston Marathon where a bomb exploded by two IS brothers. Congrats.


• Canada
31 Oct 16
She trains year round. She runs in the cold, the heat, in rain and snow. Sometimes she even runs when the weather is perfect.


• Canada
31 Oct 16
No fear of me running. Now when I was young, I walked in several walkathons. 15 miles, 25 miles and 30 miles.