Happy Halloween, Peeps!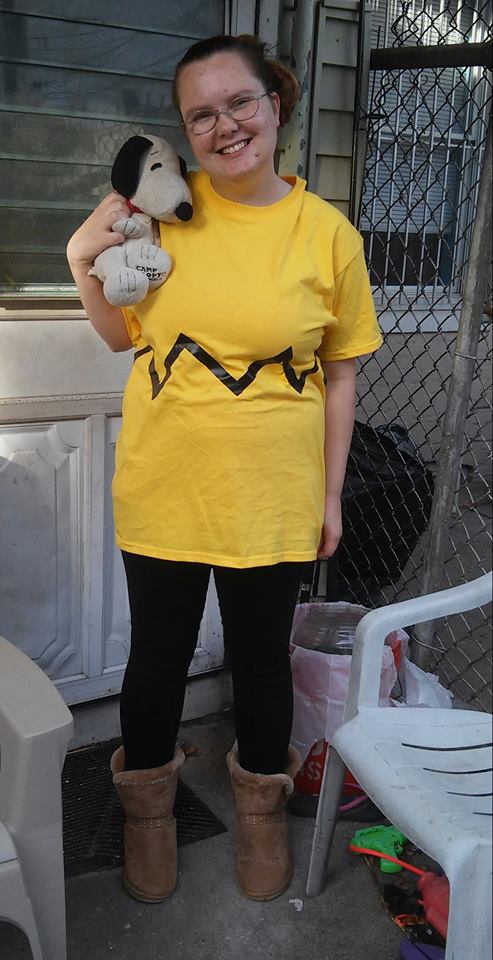 United States
October 31, 2016 3:48pm CST
Happy Halloween, everyone! If you celebrate it, I hope you have a blast with your family, friends or even if you're just gonna scare yourself silly with horror movies tonight. :) If you don't celebrate it, enjoy your Monday anyways! :) I did a little work yesterday, so I'm not gonna push myself with it today. We love Halloween in my house. I'm finally dressing up as Charlie Brown for Halloween; after stating that I was going to do so for several years lol. I actually bought black tape and a yellow t-shirt, I already had everything else. It's an easy costume, comfortable and it works for a lifelong fan of The Peanuts Gang. My nephew is some character from Mario (the video game) and my nieces are dressing up as The Crow, zombie Dorothy (Wizard of Oz) and The Flash. Yes, the teens/tweens still dress up, and it's the youngest girl is being The Flash. :D I bought a bag of candy to hand out to the Trick-or-Treaters. It's only one bag, but we're not gonna be home for a good chunk of the evening. It's enough for the kiddies coming around as we're all chilling or getting ready to leave. :) I'm gonna miss some of Raw because I ALWAYS go out with the family when we take the kiddies Trick-or-Treat. I'm not gonna stop just because Halloween is on a Monday this year, and the same goes next year when it falls on a Tuesday. I'll catch the rest of it when I get home, and I'll either read the results of what I missed online or catch up via Hulu. Anywho, I'm gonna wrap this up and enjoy my Halloween. I hope you all have a great evening! :) Photo Credit: I own this picture, so please do not save or re-post it without my permission. Thanks.
8 responses

• Canada
31 Oct 16
What a great costume. I love the Peanuts. You look great. Enjoy your evening and Happy Halloween of you and your family.



• Green Bay, Wisconsin
31 Oct 16
It's a great picture. Have fun Trick or Treating.

• Green Bay, Wisconsin
1 Nov 16


• Orangeville, Ontario
1 Nov 16
Cute picture and costume. Honestly, since I was a kid I hated Halloween. I hated dressing up because I didn't like being the centre of attention. When the kids were little we went all out but the last couple of years we have turned off the lights and hidden. Hubby wanted to dole out this year so he decorated and bought candy and sat out in the cold by himself and gave out candy. I would prefer, if I could, to go through a bunch of haunted houses. Watching this year's Ghost Adventures Halloween Episode was the scariest episode ever. I watched it three times.


• United States
1 Nov 16
Thanks! I always loved going out on Halloween, and I love going with the family to take the kids around the neighborhood, but I have to be in the mood to go to haunted attractions or legit haunted houses lol. I'm a wimp so sometimes a pumpkin patch is just fine with me lol. I'm glad you enjoyed the episode!

• Banks, Oregon
1 Nov 16
Happy Halloween Charlie Brown. I am watching RAW and, eating candy lol.


• Philippines
31 Oct 16
We only went to my grandfather's grave and had some prayer. Not sure If im going to visit today. nice snoopy


•
31 Oct 16
Happy Halloween to you and yours. My kids are getting ready to go out soon and Im finishing up some last minute things for a party Im having later some of my friends should be showing up anytime.