Do you celebrate your pet's birthday?

United States
October 31, 2016 7:48pm CST
First of all, I should mention, I only have one cat, and I've only had her since early this year, and she is my first cat. I feel the need to point this out, because I feel like my question kind of paints a picture of some crazy lady living in total isolation with a house full of cats that she thinks are people. But anyway, I decided my cat should have some special treats for her birthday. I don't know exactly when my cat's birthday is, but her vet records say it is in October, so I decided Halloween would be as good a day as any to celebrate it. Before leaving for work, I just gave her some regular treats with her food, which I do sometimes anyway if I know I'm going to be gone all day. When I got home, I gave her some special treats that she only gets rarely, as they're on the expensive side, but she loves them. I had bought a few little toys on sale awhile ago, planning to give them to her here and there, but decided to throw them into a birthday gift bag to give to her. She rarely plays with toys, but she actually liked most of the ones she got today. After a few rounds with the toys and her tasty treats, she fell asleep. Doesn't sound like a bad birthday to me.

I don't think that sounds too crazy, it's not like I threw a party or anything. :) (OK...I did sing "Happy Birthday" to her.) Do you celebrate your pet's birthday?
10 responses


• United States
7 Nov 16
That's a great idea, I almost decided to pick my birthday as my cat's birthday as well, since my birthday is in early November and hers I knew was sometime in October (supposedly...that may just have been a guess as she was already a couple of years old when she went to live with her previous owner). But somehow I just decided to go with Halloween. :)

• Asansol, India
1 Nov 16
Good. But how do you know the exact Birthday. Your celebrations are though good. Did you sing a song!

• United States
1 Nov 16
We got tem at the shelter so their birthdays were on the papers

•
1 Nov 16
If I had a pet , I would. One of my best friends celebrate her dog's bday yearly by baking cupcakes and birthday cake.

• United States
7 Nov 16
That's great! I might have done that, but my cat really likes fish-flavored food and treats, and that would have made a nasty smelling cake.



• United States
18 Nov 16
Oh, such a wonderful pet parent you happen to be!! We take Molly to McDonald's drive-through and order her a plain hamburger, no bun, for her birthday.

• United States
18 Nov 16
That's a great idea! I bet she loves that. And she is OK with the car trip? Mine would not like that part. lol

• United States
18 Nov 16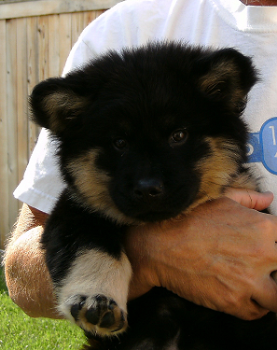 @fluffysue
Oh, should have mentioned Molly is a dog. Forgot to do that. Yes, like most dogs, a ride in the car is a joy for Molly. Now, my sister has 4 cats, and car rides are not liked by them. My husband is holding Molly, as a puppy, in the photo.

• United States
21 Nov 16
@Corbin5
Ah, OK, I don't know why I was thinking cat! LOL! Not sure why dogs love riding in t he car but cats don't. Cute dog!


• United States
1 Nov 16
Yes I always do I have 2 cats and we always get them some kind of present

We also give them Christmas presents too


• United States
1 Nov 16
I'm glad it's not just me! :) Ooh Christmas...that will be fun...I have to think about what to get her.


• United States
1 Nov 16
@Ayuriny
We give them toys and treats ans sometimes a new scratching post


• Portugal
2 Nov 16
We used to celebrate our dog's birthday

• United States
7 Nov 16
That's nice, what did you do? :)

• Portugal
7 Nov 16

• United States
21 Dec 16
stinky 'people tuna' all around,and a new toy for the birthday kitty. they seem content with that.


•
20 Nov 16
Nice idea. Maybe should set a date for my pets too.