Grocery purchase - Mall versus local grocery stores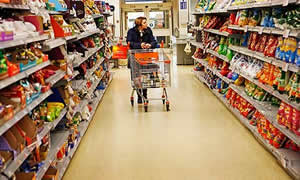 India
November 6, 2016 4:16am CST
A lot of us nowadays buy our groceries from shopping malls. Comfort of shopping in the air condition malls. Get all products under one roof. And then we use our credit cards or else food coupons for shopping. As a result the local grocery stores are suffering. We go there only for emergency shopping. Wonder how many still use the local grocery stores and dont go to malls ever.
5 responses

• Philippines
6 Nov 16
I still at times patronize small local groceries even when we buy in the mall because of the ff. reasons, I want to help small business, the shop owner is a friend so it's nice to drop by and exchang pleasantriesand service is personal, when there is an emergency or it's already late, i buy at small shops in the area. If we do not patronize small family ran business, I'm afraid they might eventually close.

• Philippines
6 Nov 16
@mayka123
yes because big players want to monopolize, we have to continue buying from small business so money would be evenly spread out.


• Philippines
6 Feb
Here we have called sari-sari stores it's a mini-store within the community. People still patronizing small stores especially sari-sari stores because it's not very far unlike malls we have to travel for like a minute. But those rich people and in middle-class, they rather shop in big malls because they do like the convenience shopping inside the malls.

• Philippines
10 Feb
@mayka123
Yes I do agree that if you're going to shop a lot it's more convenient to go to the malls because everything is there already.

• Kingston, New York
30 Oct
in my area there is no mom and pop grocery store. 2 the mall all so has no stores but target but for gorceies shopping at target is a joke they do not have what people need, we do have on store that kind of mom and pop but their prices are high and they do have good quality food,It kind of a farm store, it all most like a trader Joe stlye but not trader joes, it hard to explain but for me I have to go to the discount store that what my budget alloweds and it not in the mall .

•
6 Feb
I go to the grocery store close to my home. I can use my cart and get exercise in the process.