Gratitude Challenge Day #771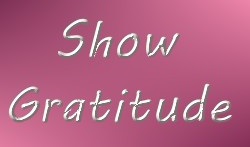 United States
November 8, 2016 12:57am CST
Hey there, everyone. I was focusing on my work today, so I was sort of MIA on here. I'm gonna get down to the Gratitude Challenge though. It's after midnight on my end, so this is the Gratitude Challenge for Monday, November 11th. 1. I went for a walk today with my nieces; we needed to get something from the store. It was kind of chilly, but it felt nice. 2. I did okay with my writing today, and I'm starting to learn not to beat myself up if I'm not as productive on Mondays --- I've done that and wound up doing good during the rest of the week. 3. Chatting with some of my out-of-town friends online today. :) 4. Watching WWE Raw tonight; I enjoyed it. :) 5. My little niece's birthday gift was shipped. :D Alrighty, I'm gonna hit the hay. I'll try to do better on here tomorrow. You all have a good night and take care. Photo Credit: I made this graphic using PhotoImpact 6.
3 responses

• Roseburg, Oregon
8 Nov 16
You had a good day and you were busy all day. Enjoy the rest of your day.

• Green Bay, Wisconsin
9 Nov 16
Monday, November 11. I wonder what year that will be? You must have been very tired to put yourself either into the future or have done as I've done many times and just wrote the date that just came out the end of your fingers and thought nothing about it. Either way, you did a good job with all your accomplishments and I hope you got some good sleep.

• United States
10 Nov 16
Oh snap, I was definitely tired considering that's my niece's birthday in a few days. Maybe I should edit that lol? Thanks. I haven't slept well this week, kind of my fault, so I really need to fix that and hope I didn't make any mistakes with my actual writing orders.

• Green Bay, Wisconsin
10 Nov 16
@tammys85
I hope you didn't either. That would be disastrous for you.


• Banks, Oregon
8 Nov 16
RAW was awesome I loved the women's match.