Election Day 2016 Post #5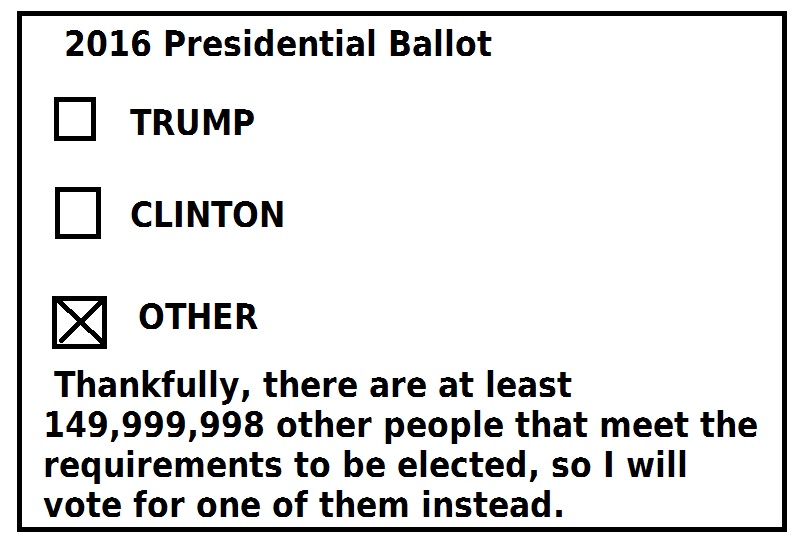 United States
November 8, 2016 4:21am CST
Seriously. I have mentioned this before, but I don't think people understood it, or maybe they didn't believe me, but there are over 150 MILLION people in the USA that are eligible to be elected for President this year. That leaves at least 149,999,998 choices besides Clump or Trinton. Two of the worst candidates in history, and for some reason, people think you must choose between them. Most people are just too dumb to choose anyone else...
8 responses

• Bunbury, Australia
8 Nov 16
Maybe in the end, the USA will get the president they deserve.

• United States
8 Nov 16
How dare you curse us like that!





• United States
8 Nov 16
We do have a lot of "dumb" everything in the USA. Too much "dumb" to control. I went, I voted, I am good.

• Centralia, Missouri
8 Nov 16
I just hope people actually go vote. I cant, not driving back to texas and couldnt get swapped to MO in time

• United States
8 Nov 16
I should have run. I'm at least 35 and born in America and no felonies.

• Greencastle, Indiana
8 Nov 16
but that's where you WAIST a vote that won't go anywhere or do anything so why vote at all??

• United States
8 Nov 16
Bull. It is NOT wasted if it is who I believe should have the office.