How can i make some money online !!

November 12, 2016 11:49am CST
As i am a beginner !! and i need to have some money i study in college and need to get some extra cash , so can anyone help me out id they know some process to earn money which pays good amount ,,,,, Please help then , your help would be appreciated a lot Thank you
6 responses


•
12 Nov 16
can you reffer me some sites where can i earn some extra cash !!!

• Germany
12 Nov 16

•
13 Nov 16
@sandipguchait
do u have a car u can try driving for uber or Lyft on your spare time u pick your own schedule so even if you can do 2 hours a day or have a whole night to spare

• United States
12 Nov 16
You have to find something that your good at and work hard at it.

•
12 Nov 16
is there any online simple job to do bcoz that would be better for me ...

• United States
12 Nov 16


•
12 Nov 16
in my lot u have to work very hard to get

• Calgary, Alberta
12 Nov 16
Stripping on webcam on sites like stream mate can earn at least 200 dollars a day but that only works for good looking people and people who are comfortable with their own skin.

When it comes to more Moral options, If you can write articles , You can try to use upwork dot com but they have a high rejection rate. If you have at least 2 years college education, You can go to Bibo Global and work as an Online English teacher to Korean children, They can pay you 162641 rupees a month . If you have a beautiful speaking voice and have an American accent, You can go to Voices dot com and audition for radio commercials. They pay a lot of money but the rejection rate is heart breaking. Humanatic is also a good one but it doesnt make a lot of money if you are a beginner. You will categorize call center calls on that site. this site is a guaranteed money maker if you mastered it.

•
12 Nov 16
thanks a lot , your words and help much appreciated !!

• Calgary, Alberta
12 Nov 16
@sandipguchait
675.57 Indian Rupee a day is attainable with Humanatic if you can endure boredom

•
12 Nov 16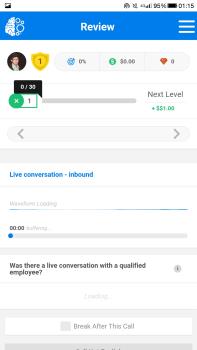 @CaptAlbertWhisker
I have joined the humanatic but there's a problem , the calls list keeps on buffering ... It doesn't load up I am giving images ... Just sent if you could help


• Philippines
12 Nov 16
Try bitLanders. You could earn from your mobile videos, blog and photo albums (gallery). Will send you pm.