Musical bullets fired from your gun.

Ireland
November 12, 2016 4:30pm CST
The war was won by music in nineteen twenty three, when Sam ran out of bullets and turned on MTV. He swapped his gun for roses, He filled his boots with beer, the rasp of Leonard Cohen was all that we could  hear. He practised on his instrument till music filled his head the pauper and the naughty priest pronounced that love was dead. So when you sing a love song or eat an apple pie, tell George to pay the drummer so the piper will not die. The war was won by music we know that much is true, The fighting started long ago In fourteen ninty two.
3 responses

• Derry, Northern Ireland
12 Nov 16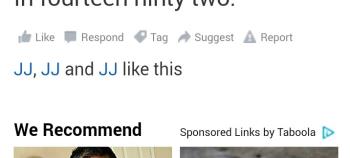 Cohen still on your mind...? I was wond'rin how come
@JolietJake
liked this post thrice...?

• Ireland
13 Nov 16
@pgntwo
I join you in your wonderment. Even one like would have baffled me.

•
13 Nov 16

@xFiacre
I wonder if you'll earn for all three? That is kinda weird

• Derry, Northern Ireland
13 Nov 16
@JolietJake
@xFiacre
You, You and You In fourteen ninety two... It rhymes too! Oh my, myLot has turned sentient...




•
12 Nov 16
The walrus was Paul... I am the Paulrus...goo goo g'joob!