Favorite American Muscle Cars # 5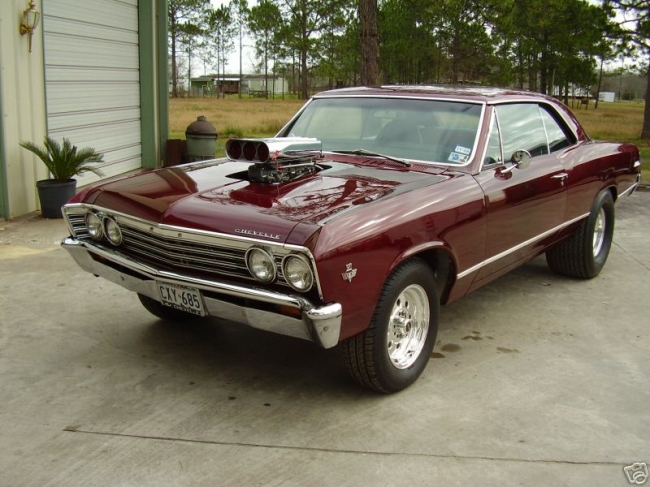 United States
November 14, 2016 7:41am CST
A new week a new countdown from me. My Dad was an antique car enthusiast. He became involved in car shows when my brother and I were young. We would spend many weekends with him going and looking. While he marveled at the model T fords, my brother and I got hooked on the muscle cars. We would stare at them wide eyed and wanting them when we were old enough to drive. My number 5 favorite muscle car is the 1967 Chevrolet Chevelle. Chevy made this model from 1964 through 1978. My step father would own one, a 1969 model, which was totaled by a drunk driver one evening. No one was in the car, it was parked on the street. This wouldn't be the only car that we owned that would be totaled by a drunk.
7 responses


• Bunbury, Australia
15 Nov 16
Oh Anna. Your poor husband. I bet it was a great wrench for him to part with it.

• Switzerland
15 Nov 16
@JudyEv
Yes Judy he was really sad, but he is happy because he sold the car to a guy who run a garage and he is going to make a lot of work and use the car for local races. At least he can go visit him time by time and look at his car.

• Bunbury, Australia
15 Nov 16
@LadyDuck
It's good that the car isn't just disappearing out of your lives. Vince was very impressed and said it was a great model.


• Fairfield, Texas
14 Nov 16
I love the muscle cars too
@Dena91
. My favorite of course was the '57 Chevy. Every year we have the car show in our town and it makes my mouth drool. My Dad was a stock car driver or years, so as the oldest kid, I got to work on cars.

• Philippines
14 Nov 16
how cool of your dad, not just because he was a racer, but it didn't matter that you were a girl.

• Fairfield, Texas
14 Nov 16
@hereandthere
LOL, yeah, Dad's plan was to have a football team and he wound up with a girl's Volleyball Team instead. Besides teaching me how to work on cars; at 11, I learned to ride a motorcycle, swim across the Missouri River and helped build a house.

• Philippines
14 Nov 16
@nanette64
i think when you're raised that way, you develop a mindset that you can learn/do/face/solve anything that interests you or out of necessity.


• Bunbury, Australia
15 Nov 16
I bet your step-father was devastated to have his car totalled in this way. What a terrible shame.

• United States
15 Nov 16
He was. My Dad lost a car to a drunk driver as well when we still lived in Philadelphia. He had just brought it home from the shop having a new paint job done to it. He parked it on the road, came in, was heading to the garage to open the door (before garage door openers were popular) to open it up and a drunk came flying down the road, took out 5 cars a chain link fence and finally stopped when he hit a brick wall. I will never forget the looks on both of their faces when this happened.


• Peoria, Arizona
14 Nov 16
That is a very interesting looking car. I used to see this kind of car sometimes at car shows. I love the paint on the car in the picture!

• United States
14 Nov 16
It is a pretty color. Most of them were standard black. My step dad's was a hunter green. Have a blessed day

• Peoria, Arizona
14 Nov 16
@Dena91
I remember one was a yellow with black stripes and the other the person had it black with green stripes haha


• Los Angeles, California
14 Nov 16
I wish I was rich to collect muscle cars or just own one. Those engines truly had muscle.

• Philippines
14 Nov 16
This is awsome, at first glance I thought it was a Camaro, anyway I'm not very good with vintage automobiles