Daily Bible Study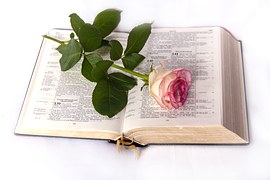 Green Bay, Wisconsin
November 17, 2016 9:53am CST
Day 72 Proverbs 13:1 Proverbs 13:1 A wise son hears his father's instruction: but a scorner hears not rebuke. 2 A man shall eat good by the fruit of his mouth: but the soul of the transgressors shall eat violence. 3 He that keeps his mouth keeps his life: but he that opens wide his lips shall have destruction. You have ears to hear, eyes to see, a mouth to speak, hands to serve, and feet to go. Yet how often do you deny your senses and rebel against what your senses tell you? You ignore what is right and instead go your own path of destruction, uncaring what the world thinks. Solomon saw many people bent of destruction, following their own ways instead of choosing the way that brought life and health to their bones. As Christians, you are to use your senses to lead you in the path of righteousness. 1 Corinthians 2:9 But as it is written, Eye hath not seen, nor ear heard, neither have entered into the heart of man, the things which God hath prepared for them that love him. (KJV) Your senses do not discern the heart of God. Instead you are to search it out through his Word, allowing the Holy Spirit to guide you along the path of salvation, so you do not look like those fools bent on their own destruction. There will always be people who will not listen to rebuke and live violent lives, but when you determine to set your heart and mind on God's will for your life and allow your senses to taste and see that God is GOOD, you will reap the rewards of eternal life. Psalm 34:8 O taste and see that the LORD is good: blessed is the man that trusts in him. Be wise and listen to God's instructions for your life. When you do, you will reap the benefits God has in store for you. Let's pray: Father, help me use my senses to hear your instructions for my life. Do not allow me to go my own way, but follow you in everything you direct for me. In Jesus' name, I pray, amen. Copyright © 17 November 2016 by Valerie Routhieaux Image courtesy of Pixabay
3 responses

• Oxford, England
17 Nov 16
Wise words. Thank you. God Bless

• Green Bay, Wisconsin
18 Nov 16
I'm happy you enjoyed the study today.

• Delhi, India
17 Nov 16
i do not have bible with me so unable to read this. I knew one thing its all about God and God is one.

• Canada
17 Nov 16
Yes, when we listen to God we reap benefits and when we don't we suffer consequences. What is sad is that even Solomon eventually left the path of righteousness and so we do well to follow the perfect example of Jesus Christ who was faithful till the end and will never leave the good path.

• Green Bay, Wisconsin
18 Nov 16
Yes he did leave it, but if you read the last chapter of Ecclesiastes, you will see he did return to the right path.