External hard drives don't always last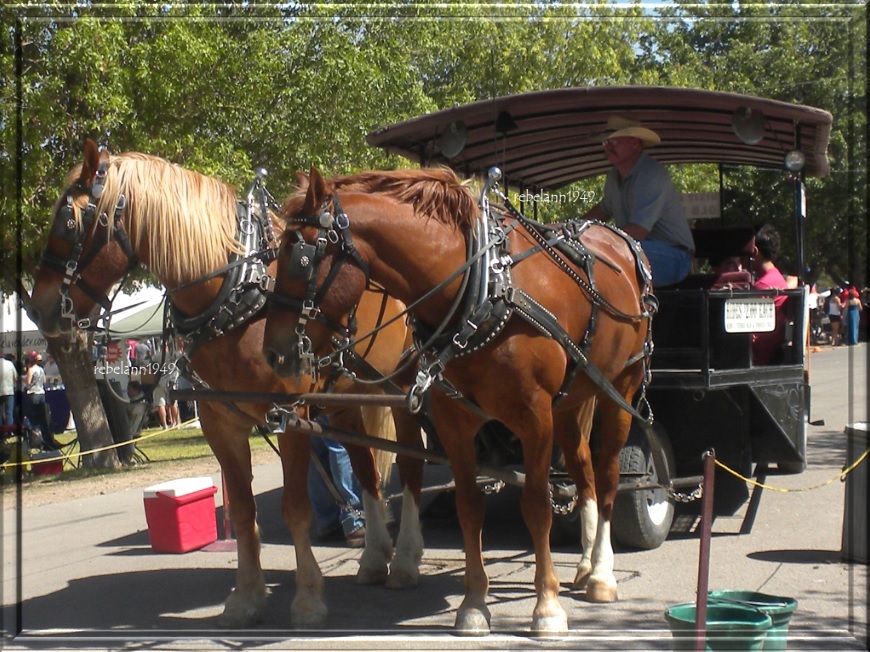 El Paso, Texas
November 19, 2016 10:29am CST
Boy did I get a scare yesterday, I'd been looking for photos on my external drives and when I plugged one in it started making the strangest whine. As with any electronic device like that I simply waited for a while in hopes it would finally open, it did not. I was mortified. Well, I plugged in another one to see what was on it and was so dang relieved that all those photos I'd been looking for were on it. Whew, what a relief. I was particularly worried about the shots I took in 2011 and they were there on that other device





The shot above is of the horse drawn cart ride provided at the 2011 Wine Festival in Las Cruces NM. It was a nice enough festival but not so great that I've gone back. They have this festival every memorial day weekend. Do you ever have stuff like that happen to you? How often do you get to go to festivals?
8 responses

• United States
19 Nov 16
Hard drives can be extremely unreliable, especially if they're frequently moved. It's easy for them to get damaged. Solid state drives offer a lot better reliability because they don't have all the moving parts in them like HDDs do. There are a few festivals we go to each year. Arizona Matsuri is the biggest one, and it's become a family tradition for us to spend a day in Phoenix to walk around there. This year's is going to be interesting since the toddler isn't in a stroller anymore...

We're also thinking of adding the Lake Havasu City Balloon Festival to our list starting this year. It's happening in January, which is the toddler's birth month, and we're hoping it will make up for the disappointment both kids had to deal with when we found out that the local balloon festival had been canceled with no notice to the public.

• El Paso, Texas
19 Nov 16
Well, at least I salvaged my photos so far but now I wonder if Cloud would be safe enough to trust my photos with. I just don't trust the web that much. I've never heard of any of those festivals, they sound interesting especially the balloon fests. If done right those can be so much fun. Back in the early part of this century we had balloon fests out by Wet N Wild Water Park but it's gone now, a couple years ago I got a wild hair to get up early and go see it but the dad blasted thing wasn't there, what a disappointment. I'll have to surf for locations of balloon fests.


• El Paso, Texas
19 Nov 16
Ummm, by modern, do you mean recent purchase?


• Midland, Michigan
19 Nov 16
I don't go to any festivals at all. When we get all our bills paid in the next few years if it works out as I hope it will, then I'd like to attend an art fair that they do at the library each year. I only went to that once and it's been over twenty years. I have an external drive. I wonder how common that is for them to quit working after a while? I would be devastated if I were to lose one of the files I have saved on it. For my photos I have them saved in several places so that's not a concern.

• El Paso, Texas
19 Nov 16
Apparently the older models aren't as hardy as the newer ones. I've had to trash two of my older ones.

• Midland, Michigan
24 Nov 16
@rebelann
What year did you buy either one, do you remember? I'd have to look. I just looked and it doesn't say the year at all that I can see. Mine is working fine, but is pretty full. Eventually, I'll need to buy another one probably.

• El Paso, Texas
24 Nov 16
Shoot
@MarshaMusselman
I probably bought 4 of them right around 2008 or so, last year I bought the one I am using now.

• United States
19 Nov 16
Oh no, maybe I should consider an online cloud drive to save my photos. Mine are all on an external drive.

• El Paso, Texas
19 Nov 16
I have 6 drives and luckily I've saved mine, once again, to a newer drive. I seem to have to copy them to new ones every couple years.

• United States
19 Nov 16
I used to go to them but this year has been anything but pleasant.

• El Paso, Texas
19 Nov 16
I haven't had a pleasant year in years .... that sounds odd don it?

Maybe this coming year will be better and I'll get my energy back, well, within reason of course, I'm not 41 anymore.

• United States
21 Nov 16
Those horses are so pretty! I don't blame you for wanting to touch them! We don't get to go to nearly as many awesome events as we would like. We seem to miss the fun stuff due to lack of funds or the weather being too hot or too cold. The twins asthma gets triggered by so many different things. As they are getting older things are getting easier. Their asthma is getting better. Now I have so many photos on disc still that I need to transfer to a flash drive or something. One of the many things on my to do list. LOL


• El Paso, Texas
21 Nov 16
I'm glad the twins aren't having as much trouble with their asthma, I hope they completely outgrow it. Yeah, looks like we both have to decide what is feasible to do with that dollar saved, so many choices and then I decide to simply stay home.

• United States
23 Nov 16
@rebelann
I am also happy about them seeming to outgrow asthma. I also hope it continues! Yes staying home is so much cheaper!

• El Paso, Texas
23 Nov 16
Kids can be easily entertained at home
@Shellyann36
but then you do have little Keith who is probably more interested in being with his school pals.


• Derry, Northern Ireland
19 Nov 16
Like any mechanical device, hard drives will fail. Even the solid-state variety, expensive and all as they are, degrade over time - bit-rot, I think, is the technical term in the latter case. And soon, there'll be mechanical hard-drives with lasers in them, can you imagine?

• El Paso, Texas
19 Nov 16
Oh good grief. I miss the old 35mm film, it was always so reliable ... ok, sorta anyway. I still have tons of 35mm and 126mm film that I had hoped to transfer to dvd. Maybe I should transfer these digital shots to DVD??

• Philippines
20 Nov 16
i was told to store in three places: here in the pc, an external drive, and in the cloud.

• El Paso, Texas
20 Nov 16
I used to store them in my documents but then my PC got really slow so I put them on external drives ..... boy do I miss the good ole days of film.