Sandwich (or Salad) Days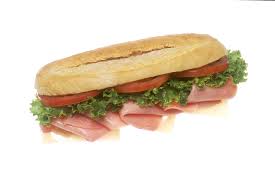 Saco, Maine
November 20, 2016 7:25am CST
While there's a whole range of hot dishes that I really like, I've also long had a passion for sandwiches. I'm not sure why, but I love the combination of flavors in a sandwich, especially if I've taken the time to make it with lots of different fillers. I also like a good take-out sub, which around here is called an Italian: salami or ham, cheese, onions, tomatoes, green peppers, pickles and black olives on a long roll. Those have gotten a little pricey, though, so I now make my own at home, switching out the various ingredients to keep things interesting. I find that sandwiches are quick go-to meals for those times when I'm just not in a mood or have the time to cook something hot. And lately, I've taken to making a big sandwich up ahead of time, wrapping it tightly in plastic wrap, and refrigerating it until it's time to eat. I use either a small or large Italian bread loaf, slice it lengthwise in half, and fill it with either ham or turkey, then load on tomatoes, onions, lettuce, cheese and mayo. I usually brush olive oil on the bottom half first, which makes it less dry and adds flavor. Then I cut the big sandwich into sections, wrap each individually, and voila! I have sandwiches for several more meals. I often do the same with a salad, too, by making a large one ahead of time that will last me through several meals and to which I add other things like sunflower seeds, bacon bits, or cottage cheese. This morning, I did both: I made a large sandwich and a large salad, and they're in the fridge now until I need them. I'm one of those people who, when I come home hungry, I need something NOW, and if I have to cook something, I'll stand there munching on other things while I'm doing it! This way, I can just grab my lunch or dinner and I'm good to go. This frees me up to concentrate on my many projects without worrying about having to stop and actually make something when I get hungry. AND it's all good healthy food, too! (Public Domain Image)
6 responses


• Saco, Maine
20 Nov 16
You can, but for some reason, I prefer sandwiches or salads over soup. I tire quickly of leftover soup.


• Saco, Maine
20 Nov 16
I understand that...many things can be prepared ahead and reheated. But some days, I don't even feel like doing that and really enjoy just unwrapping something and eating it. Just plain laziness.

• United States
20 Nov 16
I do not like to cook at all, so salads and sandwiches work well for me. Quick and easy.

• Saco, Maine
20 Nov 16
I do like to cook, but I have to be in the mood for it. I love having quick things that are always ready.

• New Delhi, India
20 Nov 16
Even I love to be preplanner and do prior preparations

• Saco, Maine
20 Nov 16
I don't really have to, as I'm retired. But it's a habit I've never broken since my working days.

• Canada
20 Nov 16
That is such a wonderful idea. It always helps to plan ahead and be prepared. I am the same way when i get home fro work i am hungry soI munch on other things while my meal is cooking.if I have something already prepared then I can come home and eat right away which cuts down on the snacking.

• Saco, Maine
20 Nov 16
Another good point. When I am really hungry, I grab the nearest thing. I hate that lack of self-control, which is why these cold foods work for me.

•
8 May
@Raelove
I like to eat a salad when I make a sandwich. I also love combination sandwiches too.