THE GREAT ESCAPE.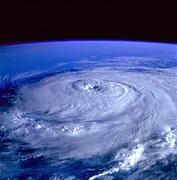 November 21, 2016 9:09pm CST
November 30 will be the end of the 2016 Atlantic hurricane season - and I am so relieved that my island escaped being hit by a major storm. Hurricane Sandy in 2012 is still fresh in my mind. Hurricane. An unwanted visitor, it bangs on your door; The bombardment is just beginning , you know there will be more. It sits on the windows and rattles the slats; It seems to be taunting , "how about that ?" I cower in my bathroom and begin to pray; Dear Lord - will I live to see another day? Then comes the calm, oh! what a balm. A respite, however that is much to short; Nature unleashed, one cannot abort. The next round is mightier than before; Will I survive? of that I can't be sure. It whistles and roars with a voice like thunder; How much more can I take ? I wonder. When it finally decides to beat a retreat; I immediately begin to feel upbeat. After all --my house is still standing; Notwithstanding that rather rough handling. I venture outside to inspect the damage; Most of my trees have fallen victim to the rampage. But, I give thanks for life and limb; Awesome, the destruction which can be wrought by wind.
7 responses

• Canada
22 Nov 16
I can only imagine what a scary experience that must be. Happy to hear it missed you this year.

• Roseburg, Oregon
22 Nov 16
I am so glad that your island was not hit by the storm.

Everyone there is so lucky.

• India
22 Nov 16
@Kadae11
It is nice that hurricane season in your area is over.It sure is a scary experince.

• Canada
22 Nov 16
That is a very well written and descriptive poem. I can not even imagine going through a storm like that.

• New Delhi, India
22 Nov 16
I'm happy you faced no damage

• Bunbury, Australia
22 Nov 16
Mother Nature can be harsh and cruel at times. Nice poem - I'm glad you escaped any structural damage.

• Hyderabad, India
22 Nov 16
It was really a major disaster.