Is it Coconut Oil or Olive Oil that is good for health?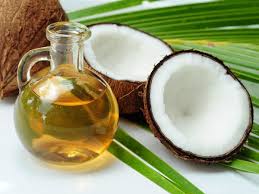 Hyderabad, India
November 24, 2016 3:38am CST
I can not eat without oil. Whatever may be the quantity it is a must in my diet. I use some oils for cooking which are generally available in India. The Palmolive oil and Coconut Oil. The above two oils are good for health. The coconut oil is very excellent for the growth of hair . The recent research has shown that it acts very effectively against Parkinson disease. It gives an immediate relief to the patients. Whenever I visit Sabarimala I made it a habit of purchasing a 10 Ltr can of Coconut oil. One will get very pure and tasty coconut oil in Kerala. My personal experience with the Coconut oil is that it gave me relief from the pain of the knee injury which I have been suffering for the last 17 yers. I used many pain killers and also tried some herbs. But, it is only after using Coconut oil I got a great relief. Besides this, the Coconut oil is also having anti-bacterial property. It strengthens the teeth. Removes the bad bacteria from the root itself. Olive oil is an excellent oil for cooking. But in India people generally, prefer Palmolive oil only as a financial reason one of the factors. This is very costly. Only the rich can afford to it. Olive Oil is good for the heart as it has got as it does not allow the free radicals . It is also very good as it has got a very low-fat content and has got LDL cholesterol which is good for the heart. Nobody can deny the use fo Olive Oil in India but it is solely for financial reasons So if one has to choose between the above two oil one should think about the health requirements. The only alternative for this is to use it on alternate days . If not in alternative days they can use Olive oil also at least once in two weeks
5 responses

•
24 Nov 16
yes, agreed.. coconut oil has many wonderful things to our body. olive oil too but it cost more here too..

•
24 Nov 16
We use sunflower oil for cooking and sometimes coconut oil too...but we dont use olive oil.

• India
2 Dec 17
Using olive oil for cooking is good for health, but since it is expensive people cannot afford it, so the use either sunflower,bran or coconut oil.