Daily Bible Study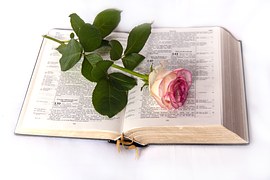 Green Bay, Wisconsin
November 27, 2016 6:15am CST
Day 81 Proverbs 13:14 Proverbs 13:14 The law of the wise is a fountain of life, to depart from the snares of death. Parents teach their children right from wrong from the moment they are born. Right behavior will always keep a person out of trouble. They will be able to discern when something isn't right when temptations come their way. Solomon grew up knowing the Law of Moses. He saw his father's faith in God every day and knew what pleased God. When you apply the wisdom of your youth to your actions, you will recognize all the ploys of the devil and can walk away from any traps he lays for you. During the Passover feast, Jesus told Peter how Satan wanted to sift him as wheat. He also told him he prayed for him. Luke 22:31 And the Lord said, Simon, Simon, behold, Satan hath desired to have you, that he may sift you as wheat: 32 But I have prayed for thee, that thy faith fail not: and when thou art converted, strengthen thy brethren. (KJV) We know Satan's temptations will waylay our plans, but there is always hope. Hours later all Peter's good intentions to follow Jesus unwaveringly was put to the test and he denied he knew Jesus. However, that wasn't the end of the story for Peter. Jesus goes to the throne and intercedes on your behalf, knowing you will fail, but praying for strength to persevere in weakness. Peter told believers about Satan's plans for them and how his subtlety will work against their good intentions. 1 Peter 5:8 Be sober, be vigilant; because your adversary the devil, as a roaring lion, walks about, seeking whom he may devour: 9 Whom resist steadfast in the faith, knowing that the same afflictions are accomplished in your brethren that are in the world. When Satan sees you resisting his temptations, he will flee from you. James 4:7 Submit yourselves therefore to God. Resist the devil, and he will flee from you. (KJV) When you follow the simple formula taught you by your parents and found in God's Word, you will be able to walk in wisdom and depart from evil. Let's pray: Father, help me apply wisdom to my life so that Satan's temptations will have no effect on me. In Jesus' name, I pray, amen. Copyright © 27 November 2016 by Valerie Routhieaux Image courtesy of Pixabay
5 responses

• Philippines
27 Nov 16
Thank you, my friend, for this wonderful post. I have been reflecting towards my attitude with my students. I need God in my life. Lately, I have been having a short temper. I was not like this before. And so I pray that God will make me a patient individual. May I love my students despite their manners and do not loathe them.

• Green Bay, Wisconsin
28 Nov 16
I will stand in agreement with you with this prayer.

• Philippines
29 Nov 16
@just4him
Thank you very much. I think I need to always pray every day before I enter the classroom. May it be God who always accompany me as I teach my students.

• Green Bay, Wisconsin
30 Nov 16

• Hyderabad, India
27 Nov 16
Definitely the needed help will reach you. Have faith. It is a fundamental thing for any success.

• Green Bay, Wisconsin
28 Nov 16
Thank you for reading the study.


• Oxford, England
27 Nov 16
Bless you for another great devotional. I will comment more once I slept off this lurgy. My eyes keep closing bit I have something to meditate on.

• Green Bay, Wisconsin
28 Nov 16
I am so happy it blessed you.

• Laguna Woods, California
27 Nov 16
Wonderful Bible Study. I wish more people actually read the Bible. In fact, I wish more Christians read the words of Jesus in the New Testament. It could be a revelation to many of them.