Favorite Television Theme Song # 7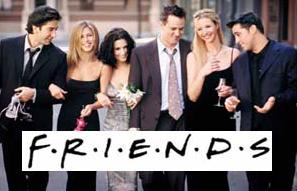 United States
November 29, 2016 9:23am CST
My number 7 favorite television theme song is from Friends. No, I never have watched an episode of the show, not my thing. But when the show was on and in the top so was the theme song. picture from google pictures https://www.youtube.com/watch?v=SCQGnVrTsAM

Die Serie wurde in den USA von 1994 bis 2004 produziert. Sie besteht aus 10 Staffel / 236 Folgen. Friends geht über eine reine Sitcom hinaus und weist, vor a...
6 responses

• India
29 Nov 16
@Dena91
I did not watch the series regularly,only some episodes.I liked that title song-still do.

• Los Angeles, California
29 Nov 16
Never liked this song which gets into the head and won't leave.

• Philippines
29 Nov 16
i think i'm the only person in the world who has never seen or watch the TV show. i've seen clips of it but never watch an entire episode and/or season.

• United States
29 Nov 16
Nope, you aren't alone as my husband and I have never watched it. Just not our type of show. But I do like the theme song. Have a blessed day

• Philippines
29 Nov 16
@Dena91
ohhh good to know! hehe :) yes, i don't really like this type of show. i prefer Criminal Minds, NCIS, The Flash, Agents of Shield, Jane The Virgin, Sleepy Hollow, The Magicians, Shadowhunter... :)

• United States
29 Nov 16
@therealmaryyy
We watched a few episodes of NCIS but none of the rest that you mentioned. I love the discovery medical and id channels and food network. We just don't get into prime time shows as there are very few out there that we care for nowadays.


• Green Bay, Wisconsin
29 Nov 16
I've never seen the show, so never heard the theme song. I'm glad you like it.

• United States
29 Nov 16
It really was a big favorite when that theme song aired.