How Often do You Clean Your Coffee Pots?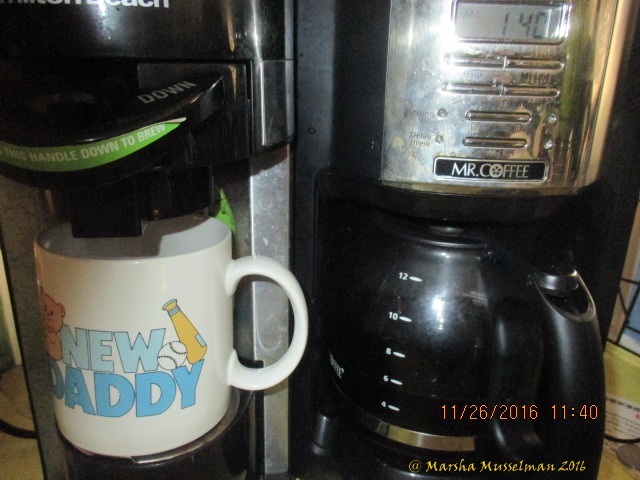 Midland, Michigan
November 30, 2016 7:34pm CST
My husband drinks almost a pot of decaf coffee per day, and I've been drinking a bit more lately than I have in a very long time. One day last week when I was trying to have myself a cup of coffee my pot, the one on the left, acted like it was burning up. I turned it off and set up my husband's pot for a couple of cups. I figured I'd have two to four cups or so and put that much water into the top. When it was done, I realized I only got one to two cups out if it. After talking it over with my husband, I learned that it hasn't been giving as much back as he's been putting in. We decided they both needed some desperate cleaning. I've had mine for about three years. I used it a lot the first six months and then sporadically after that until this fall. He's not bothered to clean his coffee maker at all. My daughter bought it for him and cleaned it for him in the beginning. Some people say they clean theirs every six weeks. I'd think every six months would be enough, but maybe not. How often do you or another person in your family clean yours? The cleaning I'm asking about is with white vinegar and water to get out the mineral deposits. Of course, I know that not all of you drink coffee.
10 responses

• Midland, Michigan
1 Dec 16
Too busy with Martin to clean your coffee pots, Horse? Or, if you'd not thought of cleaning them before, then you've crossed over into our boat.

• Walnut Creek, California
1 Dec 16
@MarshaMusselman
Heh heh. Actually, I just use a filter and make my cups one at a time. But when I had a coffee maker, I didn't clean it as often as I should have.

• Midland, Michigan
1 Dec 16
@TheHorse
How old is your current single cup brewer? I think it's meant to be cleaned with the white vinegar and water mixture just like other coffee brewers.


• United States
2 Dec 16
I clean ours every 3-4 months IF I am seeing too much residue tat will prevent an even flow and vinegar works the best !

• Midland, Michigan
3 Dec 16
Thanks. I guess it depends on how often it's used and what kind of water we all have. We have city water, but if the brewer is used daily then maybe it'd be good to do it a bit more than twice per year. I'm just hoping we didn't wait too long for I don't think we can spare the extra change to purchase a new one this winter. I may clean them both again tomorrow and then try for a cup/pot of coffee and see whether it helped or not.

• United States
3 Dec 16
@MarshaMusselman
I filter my tap water so that lead, aluminum, chlorine and Fluoride are safely and effectively removed from it, so I can drink healthy AND make sure no metallic residue is mixing with my coffee grounds !

• Midland, Michigan
3 Dec 16
@enlightenedpsych2
OIf we don't get better cleaning our brewers at a regular basis, then maybe we'll have to resort to doing that instead. Our water here in my city is considered one of the cleanest in the whole country, but I know they allow more minerals even in those tests and no water is perfect. I wonder whether we bought and used spring or distilled water just for coffee if that would taste okay or not? I've never used or drank either of those on a regular basis.



• Midland, Michigan
1 Dec 16
I mean the coffee maker, not the pot itself. I'm sure it also depends upon how much coffee each family drinks.

• Switzerland
2 Dec 16
@MarshaMusselman
It also depends how "hard" it is the water you use. . Hard water is formed when water percolates through deposits of limestone and this causes more deposits. We have a "hard water" in our area.

• Midland, Michigan
2 Dec 16
@LadyDuck
That makes sense too, Anna, thanks. We have city water. No limestone that I know of. Mostly iron and other minerals. There are people that live in the country that have well water and their water is harder than ours in the city. I'll probably have to check the recommendations. and it could be that both of us waited too long for each of our pots to do this bigger cleaning as neither is doing that well after using the vinegar solution several times. I may try a few more times and then we may have to go to instant until next year when our cleaning business begins again to purchase more brewers.


•
1 Dec 16
I have the same coffee pot,lol. I normally clean ours once a week. I use the one cup side when it's just me because I usually only drink one or two cups but when my husbands home he can go through a whole pot to himself,lol.

• Midland, Michigan
1 Dec 16
Are you saying you have a coffee pot that has two sides, one that gives you a cup at a time and the other gives a pot? The ones in the picture are two different coffee makers. The one on the left a single cup brewer by Hamilton Beach. The one on the right has a carafe for two to twelve cups of coffee and is made by Mr. Coffee. Do you clean yours weekly with white vinegar and water, or are you talking about cleaning the carafe itself and not the innards? I don't think I specified that good enough the first time.

•
1 Dec 16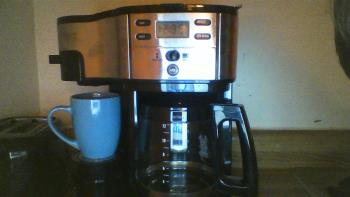 @MarshaMusselman
Yes this is the one I have. I normally do the innards but I dilute the vingear so its not so strong and run a couple of pots of plain water through after.

• Midland, Michigan
1 Dec 16
@AutumnSnow
I can see why you thought your pots were the same as mine. I just shoved mine closer together to get both into the same picture, lol. I've been told to use equal amounts of vinegar and water for each type of coffee maker. I also run several extra cycles of plain water through otherwise we'd probably taste some of the vinegar and I'm sure none of us would enjoy
that
too much, would we?

• Winston Salem, North Carolina
1 Dec 16
We use a couple of french presses most of the time and they get washed every day with the rest of the dishes.

• Midland, Michigan
1 Dec 16
I use a coffee cup with mine and that gets washed after use. My husband's carafe that collects the brewed coffee gets washed every few days or so. What I should have asked was how often on the vinegar solution?

• Winston Salem, North Carolina
1 Dec 16
@MarshaMusselman
When we used a drip coffee maker it got cleaned with vinegar once or twice a year.

• Midland, Michigan
1 Dec 16
@Platespinner
I wonder whether they need cleaning more often now that things are more cheaply made or whether you did it enough to maintain it and that's all it would need once we get back on track. It would be nice to know.

• Gainesville, Florida
2 Dec 16
I clean my coffee pot about every two months, on average. When I first got it, I was cleaning it monthly, but I've sort of gotten a little more lazy about it these days! lol

• Midland, Michigan
6 Dec 16
Every two months is still pretty often unless your water quality isn't so great. Doing it that often should keep it going strong, I'd think.

• Gainesville, Florida
6 Dec 16
@MarshaMusselman
We have pretty good water quality, so it's not really an issue with that. I think it's more because I'm a clean freak in the kitchen! LOL

• United States
1 Dec 16
I finally gave up my coffee maker and went to a small percolator. Even that was too much bother so now I drink instant. But, unlike you, I usually have only one cup of coffee for the entire day. Since I live alone it isn't too expensive to use the instant.

• Midland, Michigan
1 Dec 16
I don't mind Taster's Choice instant. I generally only have one cup per day if that, that's why I now have the single cup brewer on the left side.

• United States
2 Dec 16
@MarshaMusselman
I love gadgets! Call me lazy, but I went to instant because I got so frustrated with the messy cleanup, both with a coffeemaker and with the one-cup percolator I'd bought as I looked for a solution.

• United States
2 Dec 16
It's funny that you should mention this because I've been wanting to clean my coffee maker but I don't know how. I can't find the manual for my particular coffee maker, so I need to look online to find it and see what they say about cleaning it. I know I need vinegar, but I don't know exactly what to do. So thanks for the reminder! Once I find that manual, I will get it cleaned and then do it as often as they suggest. I bet that's why my coffee isn't tasting as good as it once did!

• Midland, Michigan
6 Dec 16
I don't know that it affects the taste of the coffee, butI use flavored creamer and maybe that's hidden any problems there. Basically, I think all coffee brewers require white vinegar mixed with equal part of water. You put it in the reservoir and let it run through the brewer for a few minutes. Then you turn your pot off and let that mixture sit inside for a while. Later you turn it back on so it can continue to drip into the carafe or cup. Since we've not cleaned ours in quite a while, it's taken us several cleanings before it began working right again. Once you run that mixture through the brewer, you need to flush the vinegar out several times. Just fill the carafe with water like you normally would but without any grounds. Do that one to three times and it should be good.

• United States
1 Dec 16
I think hubby is slacking off. He used to use white vinegar to clean ours at the first of every month. Of course where we lived then had harder water than here. Before he started doing that we would completely kill an inexpensive coffee pot about once a year due to calcium buildup. Following that schedule has allowed us to use the same pot for at least three years.

• Midland, Michigan
1 Dec 16
Well, at least you got my drift. I thought maybe I should rephrase my question, as I did mean the deep cleaning with white vinegar and water, not just cleaning the pot itself. Maybe our coffee pots aren't that inexpensive. I don't know what my daughter spent on the larger one and at least she did clean it some in the beginning. Maybe that helped. It did take several times with the vinegar before it was able to release all the water it took in. My single cup brewer is a Hamilton Beach, but I only paid about thirty-five for it. Way lower than the normal for Keurig's. I thought I had it cleaned enough, but may have to run the solution through it again once or twice more as one cup of coffee is producing about half a cup at present.

• Banks, Oregon
1 Dec 16
Probably not often enough lol.