Daily Bible Study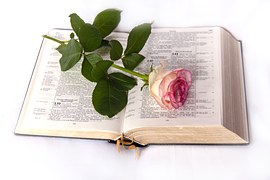 Green Bay, Wisconsin
December 1, 2016 7:51am CST
Day 85 Proverbs 13:18 Proverbs 13:18 Poverty and shame shall be to him that refuses instruction: but he that regards reproof shall be honored. You hear about people who had nothing more than a grade school education and went on to do great things. It wasn't that they refused an education, it was they couldn't get one but continued to learn. Those who refuse an education are the ones who bring poverty on themselves and shame on their family. When you do all you can to continue your education you will achieve many rewards. Education was different in Solomon's day than it is today, yet there was plenty of opportunity to learn. Solomon saw the difference between those who wanted to learn and those who didn't. Paul admonished Timothy and us to study to show approval from God. 2 Timothy 2:15 Study to show thyself approved unto God, a workman that needs not to be ashamed, rightly dividing the word of truth. Many people today only do what is necessary to get a degree and once they have it in hand they enter the workforce with an idea they know all there is to know. Know-it-alls don't go far. So too the employee who only puts in his or her time and doesn't do anything to further their career. They find themselves going from job to job and never achieving anything. However, you as a Christian, are to seek your instruction first from God's Word so you know what he expects of you, and then you are to do all you can to improve your education through every means possible, not only in the classroom, but also in the career of your choice. You never stop learning. As you do you will find your rewards and blessings to be far greater than you thought possible. Don't be a dreamer who doesn't go after his dreams. Pursue your dreams, learn all you can, and you will find your dreams fulfilled in a satisfactory way when you put God in charge of your dreams. Let's pray: Father, help me pursue knowledge and never stop learning all you have for me. In Jesus' name, I pray, amen. Copyright © 1 December 2016 by Valerie Routhieaux Image courtesy of Pixabay
5 responses

• Canada
1 Dec 16
"BIBLE reading is an education in itself." (Lord Tennyson) "A studious persual of the sacred volume will make better citizens, better fathers, and better husbands." (Thomas Jefferson)

• Green Bay, Wisconsin
2 Dec 16

• Dagupan City, Philippines
6 Dec 16
Thank you it really hit my heart, That's why i had a lot of frustrations in my life. Don't be a dreamer who doesn't go after his dreams. Pursue your dreams, learn all you can, and you will find your dreams fulfilled in a satisfactory way when you put God in charge of your dreams. That part really touch me. that's why i had if only in my life. I'm 35 right now but still i want to remove the frustrations in my life. Do you think i still have enough time to do that. I'm an frustrated Electrical Engineer. I only finished 3rd year in college. I had a mentor before at the where i am attending I always listen but just listening. He is always reminding me of being balance in life. Until stop on my college, a lot bad things i did, I blame some people around me why i stop my college. And then in the long run God made me realize the reason why i failed on my goal. Its because I didn't follow what He want me to do. If only I follow what my mentor told me, if only i ignore the temptations, if only i ignore the hatred.

• Green Bay, Wisconsin
7 Dec 16
As long as you have breath in your body, you have time to work out your frustrations with God leading you. Proverbs 3:5 Trust in the LORD with all thine heart; and lean not unto thine own understanding. 6 In all thy ways acknowledge him, and he shall direct thy paths. (KJV)

• Green Bay, Wisconsin
7 Dec 16

• Oxford, England
7 Dec 16
I have a Study Bible with me. I love it tells me things around the Bible so I learn more.

• Green Bay, Wisconsin
7 Dec 16
The only Bible's I buy are study Bible's. I learn so much from them.

• Oxford, England
7 Dec 16

• Rochester, New York
1 Dec 16
I am happy to be a Dreamer. :) This is a beautiful post thank you for sharing it!

• Green Bay, Wisconsin
2 Dec 16
I'm glad you enjoyed the study.