Christmas Alphabet - C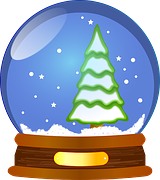 Green Bay, Wisconsin
December 1, 2016 6:45pm CST
C is for Christ Child, Candy, Candy Canes, Christmas Tree, Christmas Cards, and Cookies. Without the Christ Child, Jesus, there wouldn't be Christmas. Christ is the beginning of Christmas. You can try writing Christmas without Christ by putting an X in the place, but even so, X stands for Christ in Greek. You can't get away from Christ, so put a little Christ in Christmas this year. Along with the Christ Child, there is the ever famous Christmas Candy. I used to look forward to this special candy. My favorite was always the raspberry candies. I had too many one year, so I don't buy it anymore. Another favorite candy at Christmas time is Candy Canes. People will do two things with them, they will eat them or hang them on their tree. A tradition that is slowly fading away is sending Christmas Cards to family and friends. Have you sent yours yet this year? One of the tastiest treats of Christmas is Cookies. With cookie cutters in all shapes and sizes you can make any kind of shape you want with your cookie dough. Finally there is the Christmas Tree. Trees come in all shapes and sizes, even real of fake. Decorations abound for trees in all shapes and sizes, and the best part of the tree is what is found beneath on Christmas Day. There you have C. Thanks for reading.
7 responses

• Roseburg, Oregon
2 Dec 16
Christmas Without Christ would not be Christmas. I love eating and making Christmas cookies.

• Green Bay, Wisconsin
2 Dec 16
There is nothing like a Christmas cookie.

• Louisville, Kentucky
2 Dec 16
I hate that everyone is trying to be 'politically' correct by saying Happy Holidays instead of Merry Christmas. They don't want to offend anyone else's religion but in the process, we are being treated unfairly because of our religion and beliefs. I think my favorite Christmas candy is thin mints and chocolate covered cherries.

• Green Bay, Wisconsin
2 Dec 16
It is sad. We had two parades recently. One was the Appleton Christmas Parade - Appleton is a city about a half hour from here, and the Green Bay Holiday Parade. Appleton emphasized Jesus' birth in their many floats, while Green Bay emphasized the fun of Christmas. So sad. I've never thought of thin mints as part of Christmas. My grandson likes chocolate covered cherries.

• Green Bay, Wisconsin
4 Dec 16
@simone10
I don't think so either, but thin mints are good any time of year.


• Centralia, Missouri
2 Dec 16
carols and carolers, celebrate, cheer, chimney, cold, and cranberries. I think one of my fav is Cheer.

• Green Bay, Wisconsin
2 Dec 16
I kept finding so many C's as I was trying to post this, I see I still missed a few.

• Centralia, Missouri
7 Dec 16
@just4him
oh there are all sorts, and some I didnt even add, just was having fun giving you some new ones!

• Green Bay, Wisconsin
8 Dec 16



• Green Bay, Wisconsin
2 Dec 16
Would you like me to send you one? If so PM me your address.


• Green Bay, Wisconsin
2 Dec 16


• Green Bay, Wisconsin
2 Dec 16
Mine too. There is a lot of C's wrapped up in Christmas.

• Rochester, New York
2 Dec 16
I love me some candy canes! I tend to stock up on those to last me the year. lol I add them to a bottle of water for flavoring and also to my hot cocoa.

• Green Bay, Wisconsin
2 Dec 16
Now that's an interesting use of candy canes. It would definitely liven up the hot chocolate.