Close Raptor Encounters no. 2 - A Vulture on My Street!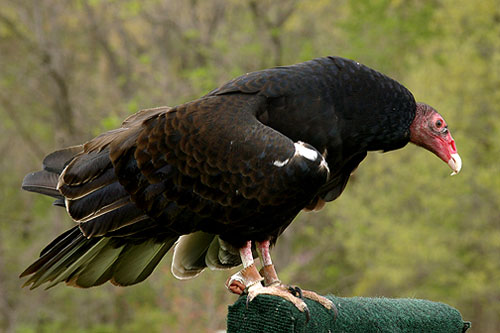 December 4, 2016 5:23am CST
As I mentioned in my article about the hawk http://www.mylot.com/post/2999668/close-raptor-encounters-a-hawk-on-my-deck, we live within the city limits but close to a lake, so we have no shortage of wooded areas around the house. Wooded areas near houses with bird feeders mean the neighborhood is lousy with squirrels in addition to bunnies, possums and suchlike, and unfortunately despite our best efforts to avoid the intrepid rodents, there is quite a bit of roadkill on the drive leading to my neighborhood. It's quite common to see ravens around the road, doing what nature designed them to do, but last week, I was driving down this road and I glanced over to see a black bird that was too large to be a raven, despite the sleek back feathers. He also seemed to have a more upright carriage than the big crows. I slowed down, curious, and when he raised his face to me, I realized I was looking at a VULTURE! Well. That was a new one for my neighborhood. He was on the right road to get a dead, furry meal, though. I stopped the car on the road (it's not a busy street during the daytime, serving just our little area) to get a good long gawk at him, and then, apparently as curious about me as I was about him, he took a couple of steps forward. I didn't want him to approach the road, so I let the car roll a bit, which made him take off flying. Those birds are pretty smart! I suppose they have seen enough wildlife get pasted on the macadam to know it's a bit dicey. As rare as the vulture sighting was, don't you know I saw ANOTHER vulture just a couple of days later, in exactly the same place. I knew this fellow was different because he was larger and had red skin on his head, whereas the other one was black-faced, which was why it took me a second to figure out what I was looking at. The red-faced one had himself a squirrel, too. I guess word gets around in the vulture community! This picture of a turkey vulture from Wikimedia Commons looks exactly like the second bird I saw. Maybe the first one was a juvenile of the same species.
3 responses

• Green Bay, Wisconsin
12 Dec 16
Interesting sightings. I've never seen a vulture except in the movies.

•
12 Dec 16
It's possible you have seen them at a distance and didn't realize it. When they fly, they could be mistaken for hawks, because they circle around up high, like hawks do. They are bigger than hawks, but up in the air it might be hard to tell the scale. I think turkey vultures are pretty common, but maybe they don't range up that far north (I live in the Southeast US, in North Carolina).

• Green Bay, Wisconsin
13 Dec 16
@AliCanary
The only predator bird we have here is the bald eagle. That one is fascinating to watch in flight.

•
13 Dec 16
@just4him
- it is, indeed, and it's actually the subject of my Close Raptor Encounters #3, when I get around to publishing it!


• Denver, Colorado
4 Dec 16
Well that sounds like a cool experience!

•
4 Dec 16
It was pretty singular. I was really surprised when he started to approach--most wild birds want nothing to do with people!

• United States
4 Dec 16
You really did get a good look at those vultures. They are not the handsomest creatures, but sure are interesting to see.

•
4 Dec 16
Yes, not conventionally handsome, although they are impressive in size and aspect. The job they do is extremely important, though!